4 Reasons to Visit Nottingham, UK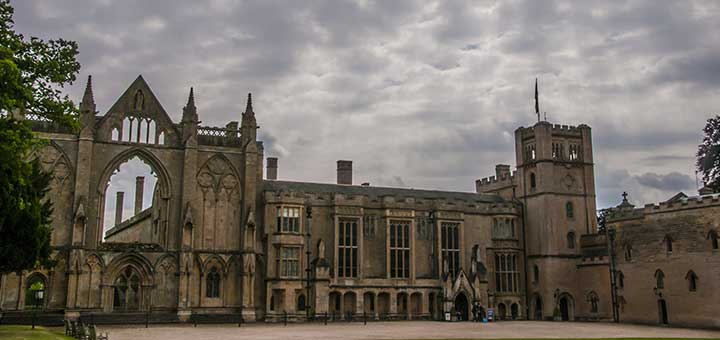 Nottingham is one of the biggest and most beautiful UK cities. It is recognized as the Queen of Midlands and this wonderful city definitely reflects its name and reputation. In a country, where every city, town and village could be called very beautiful, attracting thousands and thousands of tourists and travellers each year, the competition is pretty serious, however, Nottingham manages to stay on top and keep its fame and top position. Why Nottingham manages to stand out and attracts so many people from all over the world, we are about to find that out!
Nottingham is not your usual UK holiday destination. The city has a lot to offer in terms of historical and natural heritage, however, what makes it very unique and one-of-a-kind is its vivid, vibrant and dynamic atmosphere. In fact, Nottingham is known to be one of the most popular student cities in England with two of the best universities in the country – Nottingham University and Trent University. Both universities attract many international students which contribute to an even more diverse and charming atmosphere, where different and distinctive cultures and lifestyles mix and match to create an extremely exciting and interesting appearance you can experience in Nottingham only.
In fact, Nottingham University has a special programme together with Chinese universities for inviting a lot of Asia's local students to experience the UK lifestyle, educational system as Bachelors and Masters. Because of that, you can sense a strong Asian influence in some parts of the city. Other than that, Nottingham is very big, consisting of many neighbourhoods and very multicultural place. The buzzing life in the central neighbourhoods is replaced by the relaxing and laid back atmosphere of the little villages around the city and all the beautiful parks.
They say that the grass is always greener in England and if this is true, then we must say that the grass is even greener, if not the greenest in Nottingham's public parks. With so many wonderful parks that are designed by some of the best-known names in the branch, there is hard to say which one of them is a must-see, so do not even try to pick just one, but if you visit the city for a few days, be sure to dedicate at least one day for a stroll around the beautiful public gardens.
Parks
Although all Nottingham parks are worth visiting, there are two of them that stand out the most. The pride and joy of local people, Wollaton Garden and Deer Park is a must-visit for locals and travellers visiting the city. Wollaton park offers a whole new experience because it allows the amazing opportunity to encounter a close meeting with deers that live completely free and happy in the larger than life park and munch on fresh grass all year round. If this is not exciting enough for you, be sure to not miss visiting the amazing Wollaton castle. The amazingly beautiful building will impress you not only with an outstanding architecture but also with a vast and diverse archaeological and natural collection because the castle works as a museum.
The museum is a great opportunity for a short family trip, but for all those cinema fans, we need to mention that the building is also shot in one of the recent Batman movies, because of that is also known as Batman's house, standing as a quite remote island in a sea of green and luscious grass. Do not forget to check the local website before planning your trip, because Nottingham's Wollaton and Deer Park is a favourite place for organising all sorts of exciting activities all year round, but mostly in the summertime.
Arboretum Park is another wonderful place that many would recommend. The meaning of the Latin word 'arboretum' is translated as a 'trees collection' and the park surely stands for its name. A wonderful collection of plants, flowers and trees from all around the world, here you can find a really rare and exotic species as well as trees champions that are popular because of their age or size. If this is not fascinating and interesting enough for you, let us remind you that Arboretum park in Nottingham is the one and only inspiration for writing the novel 'Peter Pan'. That is right, if you want to witness the real Neverland (believe us, the real one is definitely as good and magical as the fantasy one), then be sure to spend some wonderful time in the Arboretum.
Nottingham Castle
Nottingham Castle is surely the symbol of the city and the thing that Nottingham is widely known for and recognised by. A wonderful mention that is a home to a vast and impressive archaeological collection and a couple of art galleries that attract fans of traditional and contemporary art, the Nottingham Castle is surely a must-visit.
The place is highly family- and children-friendly, surrounded by a large garden with a play zone for toddlers and older children as well as a few ice cream stands for young fellows to enjoy in summer. Be sure to check the Nottingham Castle's website, because a few times in the year you can benefit from a free entry, usually on bank holidays.
Ye Old Trip To Jerusalem
Known to be the oldest pub in England, we surely cannot confirm if this is the truth, however Ye Old Trip To Jerusalem is surely an exciting place that attracts tourists and travellers with a non-traditional atmosphere and a great selection of local and foreign beers on draft. This is definitely not your usual English pub, although this one is still a home to a very traditional British style and cuisine. However, here you will be welcomed in a quite non-traditional and unique atmosphere because half of the pub is carved into the famous Nottingham caves.
Besides the intriguing appearance, there are many mysterious and enigmatic stories surrounding the place. One of the most popular ones of them is that no one has dusted the hanging from the ceiling figure of a wooden ship for already decades because the last three people that done that years ago died mysteriously shortly after. Of course, such an old place is always surrounded by stories about ghosts and all that jazz, so you can expect some friendly ghosts in Ye Old Trip To Jerusalem too.
Sherwood Forest
We know that we mentioned that the city of Nottingham is known mostly for its wonderful castle, however, the first place of popularity is most probably shared with the largest known Sherwood Forest. Yep, the same that Robin Hood used centuries ago to live there and plan his adventures. Today the forest is known for its luxurious and entertaining resort complex, where you can enjoy a truly relaxing, or a truly adventurous holiday, it is up to you!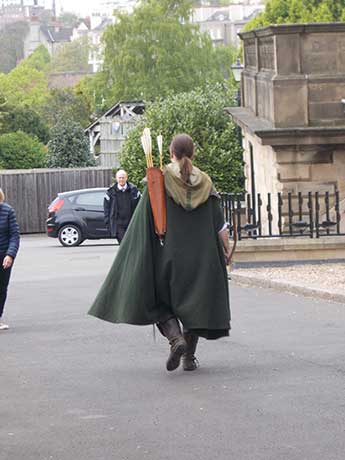 Besides amazing and very comfortable accommodations in the middle of one of the oldest and most beautiful British forests that are also a national nature park, here you can enjoy a vast variety of entertaining adventures like a large swimming pool, many restaurants, boutiques and coffee shops, cycling and other sports.