Argentina Travel Guide – Part 2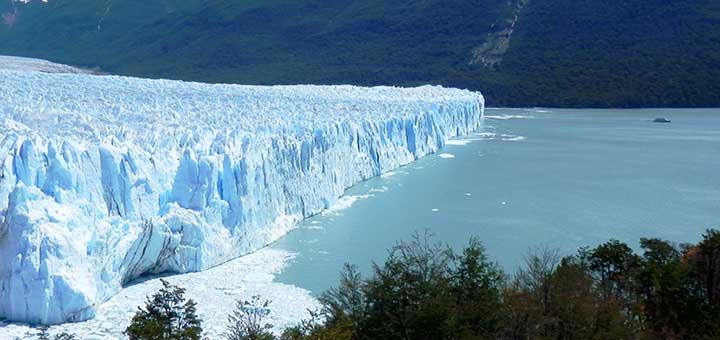 Welcome back to the second part of our candid ultimate guide to the wonderful Argentina! In part one of the two-article series, you can find a lot of information about the main cities and must-visits in the American country. Today we continue recommending some of the best places and things to experience in Argentina!
When to go?
To be honest, with the size of the country and the diverse climate and environments, there is impossible to recommend just one time of the year that is the best for visiting the country. The optimal time of the year for visiting depends on the region. However, sometime between September to November is the Argentine spring, the time you can enjoy the most of the luscious and vibrant nature.
Summertime (here is between December to February) is the best time for climbing the highest Andean peaks, such as Aconcagua, however a bit too hot and sticky for a city break in Buenos Aires. Autumn is between March and to April and we highly recommend this time of the year for visiting the provinces for the wine harvesting season as well as Patagonia and Tierra del Fuego for the beech groves. Save wintertime (between June to August) for skiing and relaxing in the Andean ski resorts.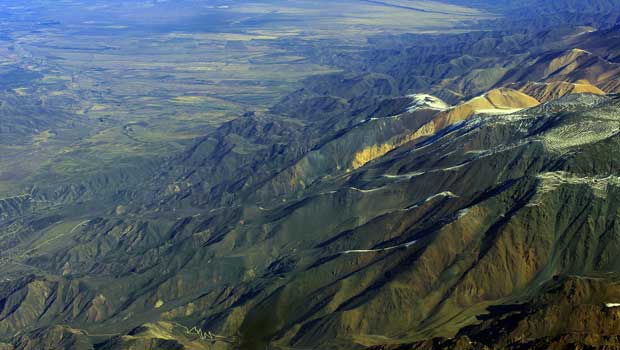 Where to go?
Argentina is a country of far too many attractions and places to visit and experience than you can fit into one single trip, but there are some must-sees and must-dos that definitely worth experiencing. There are many pieces of Argentine land that can definitely claim their place at the natural wonders of the world list, such as the waterfalls of Iguazu, the spectacular Glacier Perito Moreno, the exciting whale-watching off Peninsula Valdes, the peaceful and mesmerizing lakes and mountains around Bariloche, Patagonia in general and a lot more.
There are many hidden gems that definitely deserve your attention, such as the magical reserve of lily-carpeted lagoons of Esteros del Ibera, where you can also encounter a close meeting with cormorants and caimans, the remote village Antofagasta de la Sierra that is set amid frozen lakes full of pink flamingos, the sapphire water of Laguna Diamante that reflects a breath-taking volcano and so much more. However, if you want to make the most of your visit, be sure to focus on one corner of the country per trip, otherwise, it will be impossible to see and experience everything. Climate and distance will guide you and rule your trip for sure.
Of course, Buenos Aires is number one urban experience in the country with its intriguing blend of southern charm and passion and European and romantic influence, but do not limit yourself with visiting the capital only, because there are so many wonderful cityscapes awaiting you to explore them in the country. Cordoba is the country's colonial-era second city with some of the oldest resorts on the continent, close enough to the western and the highest Andean snow-capped peak of Cuyo. Here is another one of the Argentina's most enjoyable cities, Mendoza that is also known as the wine capital. Just a bit south and you can reach the ski-and-snowboard resort Las Lenas, where you can even meet a celebrity, or go and explore La Payunia, the black-and-red lava wastes.
Patagonia, which the country shares with Chile, and the remote archipelago of Tierra del Fuego are probably the two pieces of land that the country is most proud of and there is definitely a reason why. With lands of seemingly endless and raw steppe, the most southern led of the Andes with all the row majestic volcanos and craggy peaks surrounded by deep glacier lakes make these regions of Argentina look like out of this world. If you are wondering which are the top places worth visiting in this region, we certainly recommend you the savage granite peaks of the Fitz Roy massif, the monkey puzzle forests in Parque Nacional Lanin, the peerless trail network of Parque Nacional Nahuel Huapi, the world-class marine fauna of Peninsula Valdes, the Beagle Channel and lot more.
In the northern direction, you are about to enjoy and wow over even more of the Argentine natural heritage, urban beauty and historical trails. Some of the must-dos here include the Litoral with its subtropical watery landscapes that share a border with Uruguay, Paraguay and Brazil, the famous Iguazu waterfalls, Chaco, one of the country's most underestimated regions that is full of amazing wildlife, the Quebrada de Humahuaca with its rainbow-coloured rocks, where llamas and their relatives munch on some luscious green grass, the stunning and breath-taking chain of valleys called Valles Calchaquiers.
Moving a bit to the west your eyes and heart are about to witness even more beauty (beauty in Argentina is truly endless!). Stretching its beautiful landscape from the horizon to horizon, here you can visit the Pampas, which is the country's most archetypal landscape with all the small and cosy villages and occasional ranch, soy and wheat fields and more. The Pampas also allow you a glance at the distinctive gaucho culture and also experiencing some of the classiest estancias, where you can enjoy a lot of luxury and hedonism. When it comes to beach-resorts favourites, you definitely do not want to miss Mar del Plata.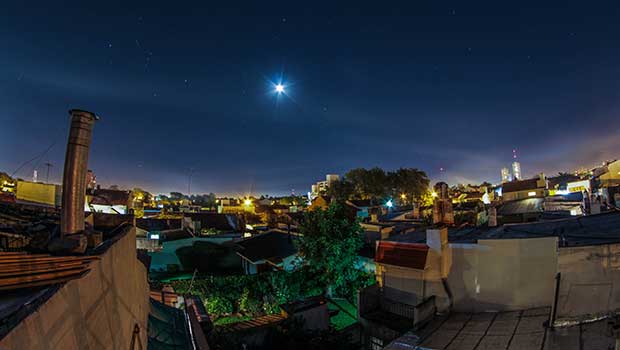 In fact, exploring Argentina is an endless experience, when even a lifetime is not enough, but we decided to gather a list of Argentine highlights that you definitely do not want to miss:
Ruta de los Siete Lagos – this is a chain of seven Patagonian lakes that will take your breath with the hue of their emerald waters and the rugged mountain road to raise your adrenaline.
Carnival in the Litoral – Argentine people definitely do know how to party and you would like to be part of this carnival experience for sure!
Glacier Perito Moreno – Perito Moreno is one of the world's last advancing glaciers and it offers a once-in-a-lifetime experience with thousands of shades of blue and all the chorus of cracks and whines.
Birdlife (Esteros del Iberta) – Here you can witness and be impressed by some of the rarest bird species that are attracted by the sparkling lagoons of Esteros del Iberta.
San Telmo, Buenos Aires – This bohemian neighbourhood of the capital Buenos Aires is embodying to the max the authentic Argentine charm and distinctive style with its cobbled little streets, tango bars, antique shops and talented street performers.
Cueva de las Manos Pintadas – Following the historical trail deep back, Cueva de las Manos Pintadas is a prehistoric mural, where you can witness early finger painting.
Aconcagua – With its 6959 meters is the highest peak outside the Himalayas and ensures a world-class climbing experience for every enthusiast around the world. Do not forget that you strictly need a reliable, experienced and knowledgeable guide!
Estancias – It is one of the greatest Argentine institutions, where you can witness and try cattle-herding or sheep-shearing and get the authentic taste of gaucho way of life and culture.
Tigre and the Parana Delta – If you are up for some serious adventure, take a boat or paddle a kayak around the muddy creeks of Tigre.
Dinosaur fossils in Neuquen – Just when you think that there is anything more Argentina could impress you with, here is the country offering you to explore and wow over the remains of some of the biggest dinosaurs and their footprints left in the rock.
Andean camelids – Along the Argentina's Cordillera, you can spot the shaggy llamas.
Quebrada de Humahuaca – Cactus forests, luscious valleys cosy nestled between sparkling salt-flats, endless windswept steppe and deep gorges – here in Quebrada de Humahuaca you can explore some of the world's most impressive landscapes.
Ushuaia – Ushuaia is popular with being the world's most southern city, surrounded by serrated peaks and dazzling glaciers.
Mendoza's wines – Argentina is a home of one of the world's best wine and Mendoza is a home of award-winning Malbecs and Syrahs.
Asados – It is the equivalent of barbeque, but here it has an authentic and unique Argentine flavour for all those carnivores out there!
Trekking in the Andes – Trekking is one of the many adventurous and adrenaline rising experiences the country of Argentine has to offer. It is hard to say no to the picturesque lands and views of the Andes.
Iguazu Falls – If there is one single thing you can visit and experience in Argentina, we are sure that most of the people would recommend the Iguazu Falls that are the world's most awe-inspiring set of waterfalls surrounded by luscious jungle and home of colourful butterflies and exotic birds.
Elephant seals at Valdes – If you want to explore and see some of the world's most spectacular marine wildlife, the Valdes is the right place to go as a home to a staggering array of wildlife.
Winter sports – Argentina attracts a lot of extreme sports enthusiasts every year by offering an impressive array of adventures and winter sports opportunities accompanied by some breath-taking views.
Talampaya – Visiting the La Rioja Province, it is impossible to miss one of the highlights of this region – the giant cliffs of pink sandstone of Talampaya that once have been a home to dinosaurs and today are a home to condors, guanacos and foxes.
La Recoleta Cemetery – La Recoleta Cemetery is among the world's most luxurious and exclusive pieces of real estate.
The Pampas – As we have mentioned above, the Pampas is probably the Argentina's most archetypical landscape you can think of!
Volcan Lanin – This Argentine volcano's cone is breath-taking, awe-inspiring and holds a true natural beauty.
Traditional handicrafts – People of Argentina are known for many wonderful things, one of them being their craftsmanship when it comes to producing ponchos, pots and silverware, world-class leatherware, jewellery and amazing souvenirs to bring back home.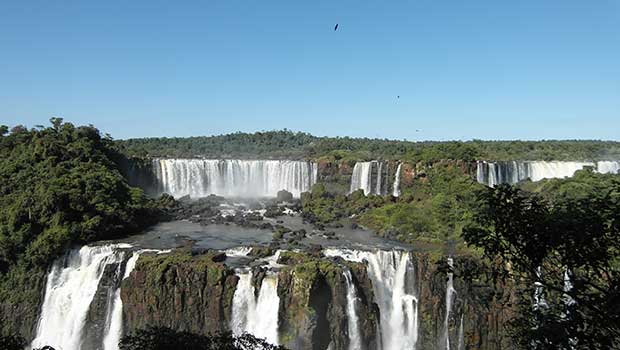 Essential things to know about Argentina
Argentina is the world's eighth largest country by area and has a population of over 40 million people. 97% of Argentines are of European origin, mostly Spanish and Italian descent. Most citizens are Catholic, but not very religious in general. Argentina is a leading producer of beef, wine, wheat, fruits and vegetables. A strong economy is also supported by a lot of export of soya. Argentina is known for having a vibrant film industry and has twice won an Oscar for a foreign movie in 1985 and 2010. The most convenient way to reach to Argentine is by flight. The most popular airport in the country is Ezeiza, the Buenos Aires' international airport.
The highest airfares are between December and February, which is the summer season in Argentina, around Easter and in July and August, when the winter season in Argentina is attracting a lot of skiing and winter sports enthusiasts. The low seasons in the country, when you can also get the best prices are between March to June and September to November. When planning your travelling budget, always be aware of the fact that a large chunk of your total budget is going to be spent on travelling in the country. This happens because distances in Argentina are pretty serious and there is so much to be seen in all four corners of the country.
Argentina has a well-developed infrastructure. One of the most popular ways for travelling the country is by bus. For covering some big legs, domestic flights are safe and reliable. Train services are limited, but the inter-city bus transport is extensive and regular. In Argentina, you can find an accommodation for everyone's budget and requirements. From youth hostels, through campsites to the most luxurious beach and mountain resorts, the country is offering everything for everyone. If you want to experience the truly authentic and distinctive charm of Argentina, the charming old colonial houses with balconies are something that many recommend. An informal room rental is a popular option in towns.
Prices of accommodation vary significantly on different regions of the country. Buenos Aires and Patagonia attracts the most of the tourists, so it is normally that accommodations in these regions are more expensive. In comparison to Europe and North America, even accommodations in the capital will cost you less. Beef is, of course, a staple in Argentines diet. The beef meat here is healthy, raised on some of the greenest pastures known. Barbeque in Argentina is an institution. Apart from restaurants, in Argentina you can dine in parrillas, which are dedicated to worshipping beef and steak, marisquerias for seafood, confiterias for coffee, cakes, snacks and simple meals, comedores, which are the local canteens, pizzerias, bodegones, where you can also be served with house wine, cantinas, which are the neighbourhood places that often offer homemade Italian food.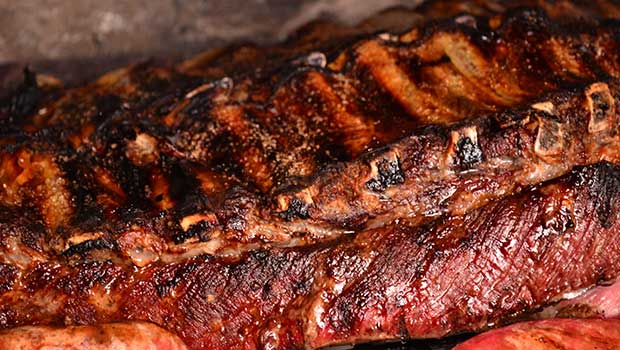 Restaurants in Argentina are not necessarily extremely cheap, but they definitely represent high standards. Tenedor libre is a popular budget-friendly option here that represent a buffet where you can eat everything you can for a fixed price. Menu del Dia or menu Ejecutivo is among the cheapest options you can get – lunch menu that is usually a set of meals for about $60. It is impossible to have a bad meal in Argentina because the country offers some very delicious, fresh and exciting cuisine. Beef might be a staple, but don't be limited, because in Argentina you can also enjoy innovative cordon bleu inspired by the European cuisine traditions, home-made pizza, empanadas and more. Fast food is very popular in Argentina, where you can find almost all of the popular fast food chains.
Minutas is the Argentine word for snacks, the most popular out of them to be lomito (sandwich with a juicy steak, pitta bread), chivito (a similar kind of sandwich), choripan (local version of hot dog), tostado (toasted cheese and ham sandwich), barrolucas (beef and cheese sandwiches), milanesas (breaded veal escalopes served in a sandwich), empanadas (small pastries with savoury filling), humitas (steamed creamed sweet corn, served in parcels made from corn cob husks). If you do not feel like trying authentic Argentine cuisine, worry not, because here you can find a great variety of foreign restaurants. Apart from the traditional Spanish and Italian ones, Chinese, Korean, sushi, Peruvian and Arab restaurants and fast food places are very popular in the country.
We know that you are up for some desserts for sure! Here are some of the most popular ones the country has to offer – medialunas (croissants, often served for breakfast), chocolate con churros (hot chocolate with fritters, often filled with dulce de leche), alfajores (maize-flour cookie sandwiches, filled with jam or dulce de leche), facturas (pastries), flan (a type of crème caramel), budin de pan (syrupy version of bread pudding), ensalada de fruta (fresh fruit salad).
Northwest of Argentina is where the most of the festivals are happening. Holidays like Easter and Christmas are very religious and family-focused. Get used to late dining hours in Argentina. Dinner is going to be probably the most shocking for you, with hardly any restaurants open prior to 8 PM and most of the locals going out for a dinner at around 10 PM. Argentines take great pride in their appearance, but when it comes to dressing, they are pretty conservative. Argentina offers great opportunities for a family-friendly holiday. Breastfeeding in public is fine. Changing facilities for babies and young children are nonexistent.