Guest Post: How to Ride the Tube in London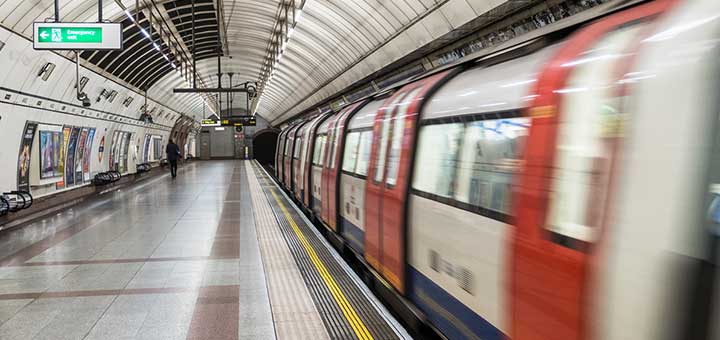 The London Underground rail network (otherwise known as the Tube) is an efficient, convenient, and affordable way to get around the city for both tourists and locals alike. This subway system transports hundreds of thousands of people every day from early morning to midnight across nine different zones through 11 tube lines. It's quite an extensive mode of transportation and one that will make your journey all the better—if you can bypass the stress and learn the details ahead of time. Anyone who has taken public transportation knows how confusing routes and schedules can be, let alone in a new country, In this article, we'll tell you everything you need to know about how to ride the tube in London, so you can get to and from your London Connection rental with ease.
Get a Map
First things first: you'll be needing a London Tube map. Luckily for you, these are free! You can pick up a Tube map at virtually any travel hub or tourist information center. If you're comfortable with flying by the seat of your pants, you can grab a map when you pay for your tickets. If you prefer to plan ahead (which we strongly advise that you do) you can download a free London Tube map online. Download the map before your trip and use it to plan your stay! Study it, do a little research, and make a travel itinerary for yourself with all the details you need to get from one destination to the next. It's also a good idea to locate the tube line entrance nearest to where you'll be staying, and circle it so you always know how to get back after a long day of exploring the city! Planning out your itinerary and travel routes ahead of time will save a lot of stress in the long run.
Get an Oyster Card
If you've ever been to London or you've begun planning your trip, then you've probably learned how expensive this city can really be. Save money on your transportation costs with an Oyster Visitor Card! Oyster Cards are what many of the locals use to get around the city, as it provides you with the best rates on various forms of transportation, from the London Tube to a ferry ride. You can expect to pay nearly half in transportation costs when you use one of these nifty little-prepaid travel cards. The best part about an Oyster card: they're easy to use! All you have to do is buy a card, load it with a certain amount of money, and tap it on the yellow card reader at the gate of whatever you're about to board.
Know When to Travel
While the London Tube can be a fantastic way to get around the city, it can also be a total nightmare during certain hours of the day. If you can, avoid taking the Tube between 7-9am and 5:30-7pm, which is when rush hour peaks on weekdays. It's also wise to learn the hours of operation for various tubes on different days and schedule your agenda accordingly; you may be able to find a train or two that runs after hours on the weekend, but be mindful on Sundays, when things slow down quite a bit.
So, there you have it! Learning how to ride the London Tube is no complicated feat, but it can be a bit stressful at times. If you plan ahead, grab your Oyster Card, and know when to travel, then using the Tube to get to and from your London Connection flat rental should be a breeze!