Explore Istanbul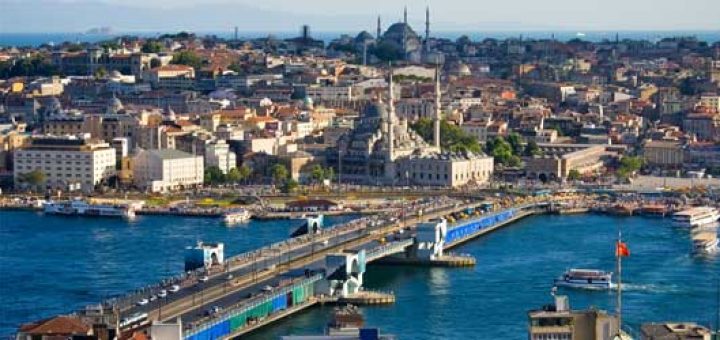 Have you ever thought of falling in love with a city? You sure do can, at least falling in love with Istanbul is the easiest thing in the world. A main city in Turkey, a popular travel destination for people all around the world, an impressive metropolis that welcomes millions of tourists every year and a city lying quiet (or not so quiet really) on two continents all at once (Istanbul is located both in Europe and Asia), Istanbul is a home of hundreds of cultures and has its own history, so rich, so spectacular, so important.
Why choose Istanbul for your next destination? Well, perhaps we can come up with hundreds of answers that will make you buy a ticket right away, but let us first tell you the best way to think of the city. Besides being popular for its architectural beauty, rich history and stunning mix of Islamic and Christian culture and beliefs, Istanbul is also a centre of the amazing Turkish cuisine. As it comes to Turkish cuisine, you will easily find yourself at a table that is simply overflowing with delicious and well-presented food (Turkish people are probably the best hosts you can think of and they are very serious about the quality and quantity of the food they put on the table).
But what makes Turkish cuisine even more finger-licking and mouth-watering are the desserts. Exotic, extra delicious, enormous variety of different desserts and sweet pastries that can tackle even the pickiest, most pretentious sweat tooth with an ease. One of the most popular Turkish desserts is the infamous baklava – a pastry made from hundreds of paper-thin layers stuffed with nuts like walnuts, pistachio, almonds, exotic spices like cinnamon and a lot of sugar.
Istanbul reminds us of baklava to the bone of its unique, mysterious and rich culture. Thousands of layers and layers. In between the layers of new and ancient, in between the tectonic plates of Europe and Asia, the distinctive, mysterious and charming spirit of the city is overflowing, sharpening the appetite for life with its vibrant taste, pervades all senses with every bite you take next.
There is so much to see and experience in this Turkish megacity and you definitely want its print on the pages of your international passport and on your heart and soul too. Istanbul is going to stick to your mind like a Turkish delight, stretching your understanding for what is beautiful like the spider web-like threads of the popular dessert pishmanie. You will feel the need, no, you will feel obligated to visit it very soon, perhaps right after you are left. Istanbul makes your head dizzy, just like if you are the little dust particle on the skirt of the famous Dervish dancers, rolling and rolling around for hours in their intimate and sacral dance. So many colours, so many textures, tastes, noises and scents, Istanbul is holding the whole palette of human emotions, the whole spectrum.
Every time you see Istanbul, with every next visit, you will see a new face of the city and that is its charm and special power – leaving you always surprised, always wanting to go back for more, to explore and discover something new. Visiting Istanbul is just a 2-3 hours flight away for the most of the European countries. Since Turkey is not yet a member of the European Union, you are going to need an international passport to enter the country. If you prefer to travel by car remember that you need to pay a fee for entering the city as well as a fee of a few euros for entering the city's Asian part.
The historic center of Istanbul is situated in the Old European part where you can visit the popular Blue Mosque, the basilica Hagia Sophia or Holy Wisdom, the ancient Ottoman Topkapi Palace, try your barging skills at the Grand Bazaar and the Egyptian Spice Bazar Eminonu, eat fresh fish right by the sea under the Golden Horn bridge, experience a magnificent tour of the Dolmabahce Palace, admire the Bosphorus Bridge that connect Europe and Asia and more. The main spots you want to visit are connected with the single tramway line of Istanbul. You can also book a boat and admire the beautiful and luxurious mansions that are overlooking the sea or travel with a funicular to the top shopping destination of Istanbul – Taksim Square.