Upper Mustang Trek – A Journey to the Tibetan Culture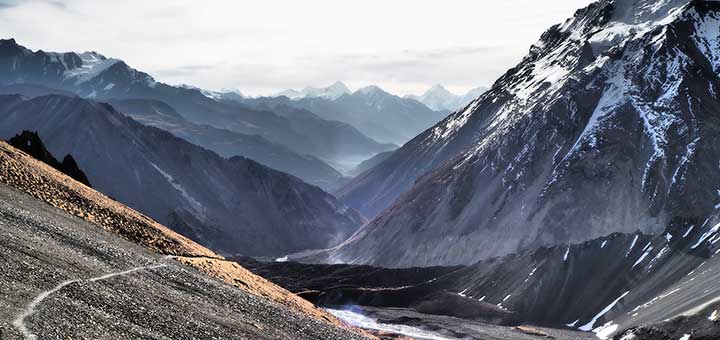 An upper Mustang trek has always been relevant – from the past time to today's world, even before the concept of commercial trekking was formulated. Well, for the spiritual devotees, the highlight of this trek is the Muktinath temple, where your sins are supposed to be washed away. Well, we can't say if that happens, but one thing is for sure. You will forget all the persisting troubles in your life and get a chance to find your soul in an upper Mustang trek.
Upper Mustang trek is one of the most popular treks in Nepal. From the views, Hiring culture, Himalayan flora's, and also the caves in Mustang, from mystery to nature, this trek has everything to offer to you. You start your Mustang trek in Kagbeni, which is about 363 km from Kathmandu. Then, you will walk through valleys and hills, chewing on apple's from Jomsom and trying Himalayan tea and brandy that locals offer you at different places, and you will be reaching as high as 3810m.  Let's say, this will be one of the busiest treks you will have, experiencing things that you have never done before, and the rough 17 days you spend on the trek will fly by, and you won't even realise that it's already time to come back.
Even the trek itself is not so tough, you might still consider getting a trekking guide for you will get better information, and you will actually be enjoying the trek rather than booking hotel beds and restaurant chairs. Also, make your backpack as light as possible and have everything you need, at the same time. Get some good trekking shoes; it won't be fun if your soles turn out to be slippery.
Mustang is one of the few places on the planet that has survived a very close life and until 1992 this region was a banned land for outsiders. This isolation and loneliness helped Mustang's people preserve their lifestyles and cultural heritage that has remained almost untouched for centuries. Hidden behind the high Himalayan mountains, Mustang is filled with beautiful trekking zones. The high desert rain shadow of the Himalayas receives very little rainfall, which makes this region dry and parched, similar to the adjacent Tibetan Plateau.
Lo Manthang, the capital of Upper Mustang Trek, is located in the remote Himalayan desert behind the Dhaulagiri and Annapurna mountain ranges. It is an ancient traditional Tibetan village with rare medieval Buddhist arts and exotic culture. We, Wilderness Excursion, offer reasonably priced Mustang travel packages at the lowest cost of travel and develop tailor-made itineraries to meet your Nepal vacation timeline.
Trekking in Mustang is a good option during the monsoon season (June-August), as the region is in rain shadow. However, it is best to add a day or two on each side of your trip for travel disruptions due to inclement weather in the lowlands.
While November is still a great time for a hike in Mustang, keep in mind that the seasonal migration is taking place at that time and many residents of Lo Manthang and the surrounding areas will move to lower altitudes during the winter months. This can lead to inconvenience in the availability of restaurants and accommodation.
Lo Manthang
Lo Manthang was founded around 1450 by the son of the legendary Ame Pal, who conquered and united the small kingdoms in the upper Mustang. The high wall, 300 meters long and 150 meters wide, in L-shape, has protected the city for centuries from warriors, bandits and violent winds. Archaeologists say that the wall has not been expanded has remained largely unchanged over the last 500 years.
In the town of Lo Manthang live around 1200 people in about 150 houses, which are connected by narrow streets. Most houses are two-storied, the larger buildings are monasteries or palaces. There are some chorten in front of the main gate, and after these, the first building we see is the 40 foot high Royal Palace. There are three monasteries in Lo Manthang, but monks are only resident in the newest, Chode Lhakhang, who is around 200 years old and offers both secular and Buddhist teachings.
Lo Gekar Monastery
A small stream flows on the other side of the pass and a welcome change; We start to see grass, flowers and bushes. Here, the first of the hidden writings of Padmasambhava was discovered (he hid his teachings in many different places in the Himalayas to make sure they were safe when the times for the survival of Buddhism were dangerous). In the anteroom of the monastery are tiled with Buddha Shakyamuni and Bodhisattwas. The gonkhang is illuminated by dozens of butter lamps that enrich the statues, including pictures of Padmasambhava and the Yoginis Yeshe Tshogyal and Mandarava. In a small room on the left are more beautiful figures, including a green tare.
Tsarang
The gompa in Tsarang is a massive structure on a small hill with visible glaciers behind it. In earlier times, several hundred monks lived here. Now there are only about 50 left, but most are not living. Although the gompa is imposing from the outside, it goes to ruin and many rooms are useless. There are some beautiful paintings in the auditorium, as well as thangkas and statues. The other landmark is the Royal Palace, which also has not been used for half a century. The only two rooms that are preserved in good condition are the Gonkhang and the chapel, which has some beautiful statues, including 'The Three Saints', figures that played an important role in Mustang's early history, and Tibetan books.