A Holiday In Baku, Azerbaijan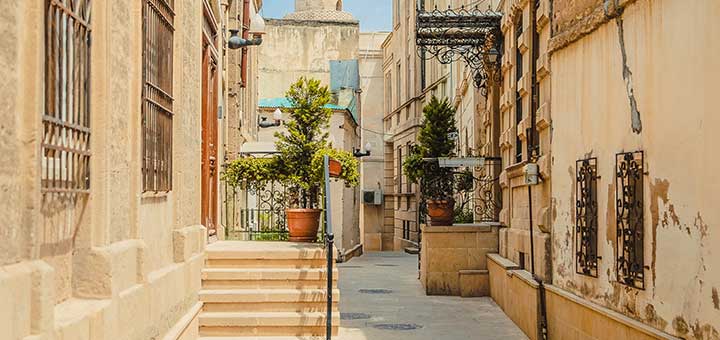 Baku city is oriented towards the water as well as the breeze coming off of it, and the best stretch of waterfront is reserved for recreation and entertainment. Milli Park and its wide pedestrian promenade the curve of the bay and offer ample sunshine and space for jogging, cycling, dog-walking, and rollerblading. Now the city, as well as its country, is experiencing a breakthrough, but one roiled by an authoritarian government, the vicissitudes of an oil economy as well as the challenge of integrating Islamic customs with modern Western secularism.
On a sunny morning, it is a happiness to walk along the restored cobbled roads and side streets of the Baku old city. Baku means the 'city of wind'. The brisk winds blowing in from the Caspian Sea scarcely affect the old city. The ancient city walls provide a windbreak as well as a magnificent spectacle to glaze at from the comfort of an Azeri restaurant.
Stalls, as well as local shops, are well placed in the old city. Tucked into old buildings and around the various historical monuments they provide everything from tourist trinkets to the national speciality – carpets. The high streets with impressive modern Azeri buildings have fantastic shopping opportunities with everything from H&M to Prada accessible. Baku has a mix of old and modern, east as well as west and somehow they all blend into, something 'Azeri'.
Fountain Square in downtown Baku was initially constructed in Soviet times and has since been developed and remodelled by the Azerbaijanis. To obtain there it is easiest to walk up Nizami Street past several 19th-century buildings that inspire the imagination. The fountains at night are lit up as well as during the day it is a well-liked destination. There are several wonderful hotels for staying in Baku.
Four Seasons Hotel
Located in the fashionable part of Baku, the Four Seasons is within walking distance of Icheri Sheher Old City, Baku Tours Boulevard as well as Funicular. The spacious rooms are tastefully decorated as well as adjoining terraces offer views of either the Caspian Sea or Old City. The Four Seasons also features two world-class restaurants, a skylit pool, a penthouse spa and fitness centre, Turkish-style baths and a ballroom. This luxury hotel in Baku exudes unparalleled sophistication as well as a class in one perfect location.
Kempinski Hotel Badamdar
The hotel is very near to the city centre so you may go to historical places as well as shopping centres in a few minutes. There is even a shuttle to the city centre as well as back. Positive impressions of this hotel – stunning lobby interior, large comfortable rooms, good breakfast, large water pool and relatively moderate room prices comparing to other hotels of this level. The treatments, as well as hospitality, are incredible too. Quality hotel, quality service, definitely one of the wonderful luxury hotels in Baku, Azerbaijan.
Austin Hotel
The sophistication, as well as the charm of Baku, is a blow to a visitor arriving here and expecting post-Soviet gloom. It's a really humming city as well as the city centre is very chic. The Austin Hotel has a great location near to Fountain Square as well as just around the corner from the Russian Drama Theatre. The young enthusiastic staff is amazing. There is a tiny gym, a pool, and a sauna.