Guest Post: 8 Things to Do In Stockholm – Explore Stockholm Beauty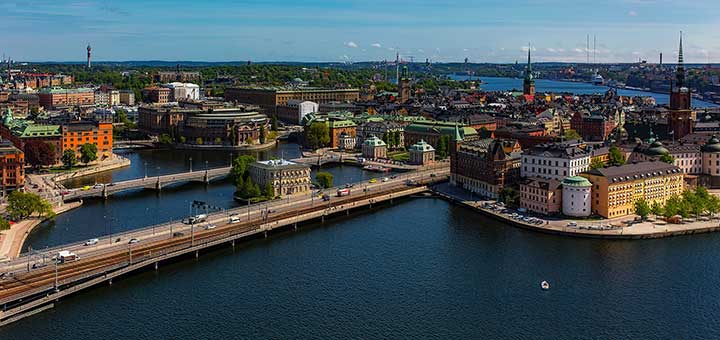 Stockholm is an awe-inspiring Swedish capital which is spread over fourteen isles in the Baltic Sea. Known for its lively waterside walkways with countless attractions, it sharply astonishes its visitors with its unique and charismatic old-fashioned boulevards, neat and tidy parks and significant landmarks.
Stockholm is a place where multiple sceneries meet and integrate, making it one of the most diverse places in Europe. While visiting this beautiful Scandinavian city, you will see its artistic and innovative side. With the new environment-friendly architecture, historical landmarks from ancient Vikings civilization, and a sundry nightlife stretching from creative nightclubs and floating pubs.
To explore the beauty of this celebrated city, the best way is to humbly shadow the lead of its inhabitants and spend your time outdoors. Just pack a daypack with essentials and start walking in the compact streets. You can also rent a bike, and ride along cycle paths. So exploring this city is easy, and with the advent of internet and maps, it has become even easier. Following are 8 things to do and explore in Stockholm. We hope you extract a good deal of knowledge about this city and make the most of your trip.
But before you plan for the most waited tour of the Venice of the North, we would like to recommend a basic traveling tip. Book the most suitable and low-cost flights to Stockholm from London or any other city with the help of an online travel agency.
1# Discovering the hush-hush gardens of Tantolunden Park
This park is the most Instagramable place in all of Stockholm. It has more than a hundred plots with small wooden cottages that are sharply colored. Just imagine the grace you will experience when you take a nap or eat in a surrounding of beautiful flowers and small cottages. You can also find some outdoor games in the gardens of Tantolunden Park such as mini golf, boating, gyms and more. In winters, this place is perfect for making a snowman and enjoying a snow fight with your friends. This is certainly one of the best things to do and explore in Stockholm.
2# Navigating through the Stockholm's archipelago
A city's beauty is not in the skyscrapers, architecture or even its local cuisines. The real beauty is in its terrain and landscape. Stockholm is blessed with an alluring archipelago that drains into Baltic Sea. With an infinite number of big and small islands, and a healthy number of beautiful tourist spots, white sand beaches, hotel resorts and natural setting, this place is just out of the world for anyone. It is a must visit and we recommend you to sail around this archipelago.
3# Exploring Kungsholmen Island
This beautiful island is regularly snubbed by tourists. But it is a perfect place to explore, and the best part about it is you can do it on foot. The residential district of this island has one of the best footpaths to walk in Stockholm.  You just need a couple of hours to explore this island and to make it more exciting, you can even take a running tour. If you plan to take Stockholm trip in winter, we suggest you take a headlamp and shoes with good grips. It will help you find your way across the cliff after nightfall.
4# Enjoy a performance at Berns
Berns is a 19th-century music venue and has played a significant part in developing Stockholm's nightlife for more than a century. It consists of multiple pubs, eateries, clubs and a hotel. You can find almost every little aspect of nightlife at Berns. They even have a grand hall namely Stora Salongen, for live music admirers. Although Berns is a costly place, it is worth a visit if you love enjoying a good nightlife.
5# Lakeside steam bath at Hellasgarden
Steam bath is originally a Nordic ritual, which consists of a process which includes sweating, to cure stress. Steam bathing at Hellasgarden Sauna is the perfect way to enjoy your vacation by satisfying the culture and traditions of Sweden along with releasing stress. Although it is compulsory to completely strip off before getting into a warm pool for a steam bath, it is also pretty reassuring that they have separate saunas for men and women.
6# Savoring Swedish meatballs
Meatballs is the Swedish national cuisine and we recommend you to try it at any meatballs restaurant. They are commonly served with a buttery mash, a sauce, and a lingonberry jam. So do enjoy this delicious Swedish delight when visiting Stockholm.
7# Ferry ride to the Isle of Djurgarden
People living in the Venice of North are literally infatuated with greenery and nature. The island of Djurgarden is the best example of this as it is the greenest island of the city. Take a ferry and explore this island's attractions. Wander through centuries-old Swedish houses, farms and witness wild Nordic animals first hand. Although you won't find any ancient dragon, there is still much to explore.
8# Witnessing changing of guards at the Royal Palace
A noteworthy 40-minute ceremony is held daily at the Royal Palace where guards are changed. It is a nice and exclusive ceremony to attend and you can also take a look at breathtaking Royal Palace.
Author Bio: This article has been written by Daniyal Buksh, a professional content strategist and digital marketer.