The Ultimate Belgium Travel Guide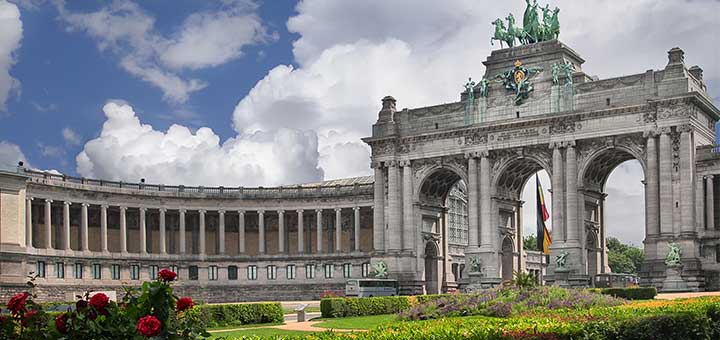 Belgium is a wonderful country full of mesmerizing historic cities, the most delicious and fine chocolate in the entire world and a beer that no one could resist. Always a bit of overwhelming and intimidating at first, Belgium is often misunderstood at first, but it is surely a fascinating and impressive country and nation under the sun. A country of three official languages that bring different and very distinctive cultures and philosophies, there is an intense regional rivalry between North and South of Belgium, however, the country remains a beautiful mix between all different cultures building up its nation.
Its historical cities are something you definitely need to visit and experience in a lifetime, because in the most famous out of them – Brussels, Bruges, Antwerp and Ghent – offer the authentic European class and elegance. Belgium's amazing cuisine itself is a reason enough to justify a visit, where you can find an amazing range of delicious regional dishes, but the chocolate desserts are what is truly a must! Belgium is also offering a picturesque countryside and breath-taking views with a vast variety of natural settings. Finally and if you need one more reason to visit this beautiful and cosy country, do not forget that here you can try and enjoy the most amazing beers in the world. What more could you ask for, really?
Although many would think of Belgium as simply a weekend destination and a quick escape from the hectic and dynamic big cities, the country is offering a lot more than that, so make sure to plan at least a week for visiting this place that is culturally and historically one of the most complex, diverse, unique and intriguing parts of the old continent. Belgium occupies a spot that is often referred to as the European balance of power, the country is stretching its picturesque and pretty luscious lands between France, Germany and the Netherlands and cultural impact of these countries and cultures can be felt, when visiting Belgium, along with the traditional and distinctive atmosphere.
It is sure that so many powers have had an interest in this otherwise peaceful and heavenly piece of land that it was only in 1830 that Belgium became a separate and independent state that today attracts and impresses tourists and travellers from all over the world with its simple and laconic elegance.
Brussels
Visiting Belgium and not visiting Brussels is definitely a thing you don't want to do. The city of Brussels will impress you with a lot of beauty and elegance, so make sure to allow yourself at least a couple of days. Brussels is, for sure, one of the premier capitals in Europe, so do not let yourself be misled by the reputation of a faceless centre of the European Union bureaucracy. The city is a thriving and vibrant metropolis with amazing museums, breath-taking architecture and an energetic restaurant and nightlife. The best part is that Brussels is really easy to experience because most of the must-dos and must-visits are situated in the small and cosy centre for a full convenience. The cultural centre of the city is comfortably limited by a ring of beautiful boulevards that is popular as the "petite ring".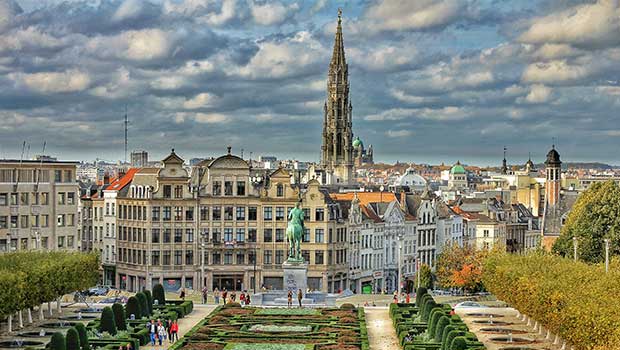 Many of the first-time visitors of Belgium are expecting to find a neat and tidy city centre, but this part of the city is rather vibrant and energetic. There is a buzz about this place that is hard to resists and you definitely do not want to miss adding it to your travel and exploring plans. The city centre is divided into two main areas – the western Lower Town and the eastern and smaller Upper Town. In Lower Town you can enjoy the marvellous Grand-Place, while the Upper Town is revealing the beauty of the finest art collection in the country in the Musees Royaux des Beaux Arts.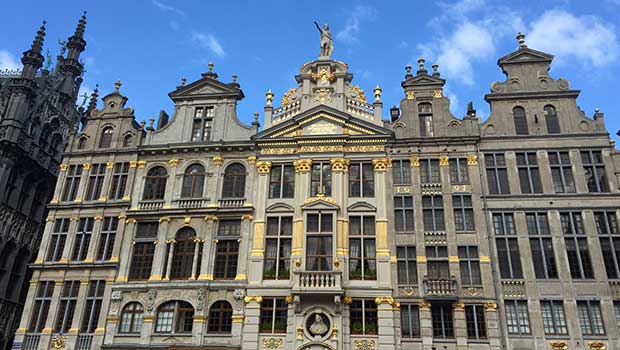 Although Brussels's central part is divided into two main parts, the otherwise compact city is also separated in many distinctive neighbourhoods and parts, where the large diversity of cultures, nations and communities is divided into groups, mainly the Belgium's two main linguistic groups – the French-speaking and the Flemings (Dutch-speaking), but also many immigrants from Turkey, North and Central Africa, the Mediterranean and more. With such a vast cultural diversity, you can be assured that Brussels becomes an interesting and exciting mix, which increases the city's allure, especially for gastronomic lovers and travellers that are on a hunt for extra delicious and extra affordable places.
Everyone knows about the Belgian chocolate and if you have a sweet tooth, you are certainly going to enjoy Brussels with way too many little and cute shops that offer the best sorts of chocolate and chocolate desserts you can enjoy. Besides the little shops, Brussels is the place you can find big open-air markets, contemporary art galleries and establishments that are devoted only to chocolate. Since Belgium is a pretty small country (but fool of must-visits) and thanks to the well-developed rail transport system, Brussels makes it the great starting point for various day-trips and Waterloo is an obvious choice as one of the highlights of the region. Furthermore, here is what to do and experience in Brussels:
The Grand-Place
The Grand-Place is one of the highlights of Brussels and an obvious spot to start your journey with. While this is one of the most beautiful European squares itself stretching to a labyrinth of little-cobbled streets, in this Lower Town part of the city you can also see a lot more such as the Gothic extravagance of the Hotel de Ville that represents the Baroque philosophy of beauty and harmony. In the past, the main role of The Grand-Place was a large marketplace, but today the place is offering the taste of Brussels' past and Eurocapital present, characterized by a distinctive and flamboyant Baroque style.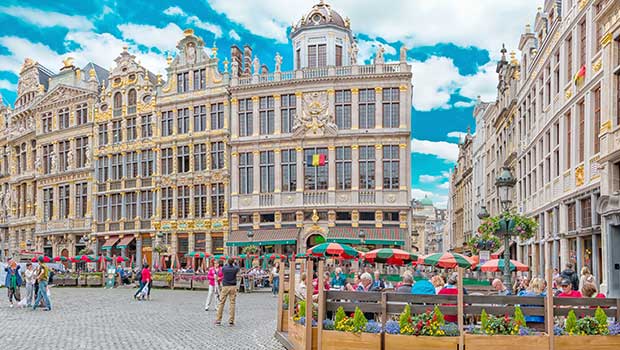 Flanders
Stretching out towards Brussels and Antwerp and located east from the North Sea coast, the area of Flanders is divided into two Flemish-speaking provinces – West Vlaanderen and Oost Vlaanderen. Back in the past the Flanders used to be one of the most progressive and fast-developing European areas and the boom lasted for two centuries, followed by an economic collapse for the region. With Belgium winning independence, the situation in this region began to change too, so today the Flanders are the prosperous area it used to be in a past, also keeping its distinctive cultural and linguistic identity. While the Flanders have a pretty monotonous landscape because of the lack of hills and the relatively flat lands, the area is offering a lot of beautiful views for you to enjoy.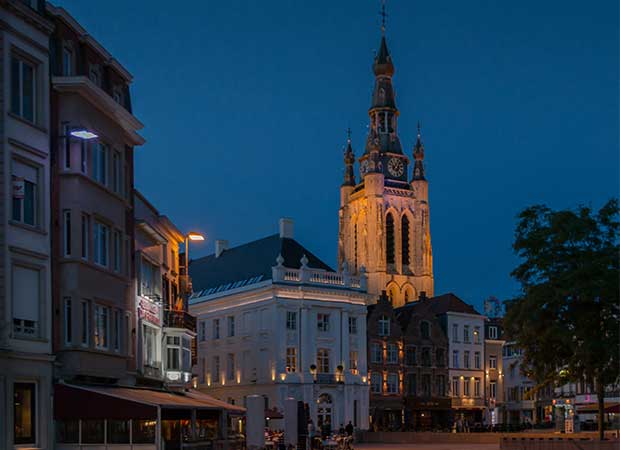 The quiet and cosy atmosphere here is what is probably going to win over your heart with all the poplar trees and whitewashed farmhouses that decorate sluggish canals. Here you can find many remains of the medieval Flanders' history and greatness – the cities of Bruges and Ghent, one of the most beautiful little towns Oudenaarde that is famed for its tapestries, Kortrijk and its fine old church, Veurne that is framed by medieval and beautiful buildings, Ieper, where you can see the numerous cemeteries and monuments left after the first World War, Ostend that is the largest town on the North Sea coast and a lively working seaport and resort.
Bruges
Bruges is one of the most beautiful and well-presented medieval cities in Europe, because of that it is a popular tourist destination in Belgium that attracts hundreds of travellers every year. When coming to the Flanders, visiting Bruges is a must as the large crowds of tourists give a hint. Bruges' museum, in particular, is one of the highlights of the city, because it is a home to the country's finest collections of Flemish art, but the tourist hype is all the truth, because of the specific architecture and all the canals crossing the city.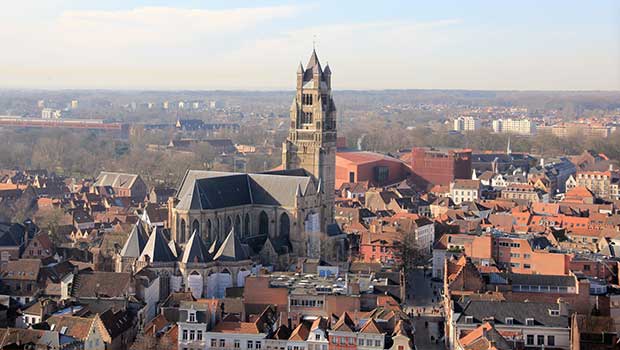 Starting points for exploring the city are definitely the Markt and the Burg. In a short walking distance, you can see the three main museums of the city and Groeninge is the one you would like to start with. One of the city's most impressive churches are the Onze Lieve Vrouwekerk and St Salvatorskathedraal. Among the other highlights of the city is Kantcentrum or the Lace Centre, where you can buy locally made, extremely beautiful lace and also watch its manufacture and the craftsmanship it requires and also the city's most unusual church in an approximate distance – Jeruzalemkerk.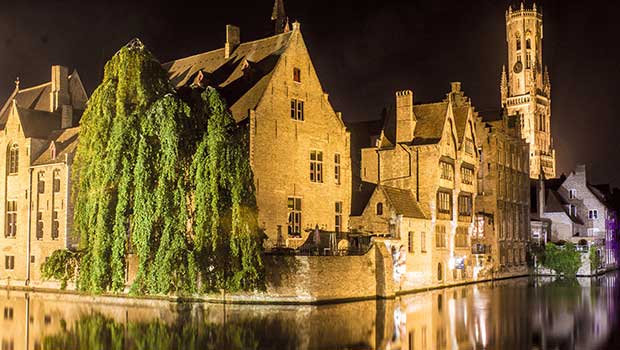 Antwerp
Stretching as far as the border with the Netherlands, the region of Antwerp together with Limburg and Brabant form one of the most picturesque and beautiful areas of Belgium. This part of the country is popular with the rivers and canals crossing the countryside to create a beautiful pattern everyone would enjoy. Antwerp is the most intriguing city in this part of Belgium, attracting people with its architecture that is a reminder of the golden age, a bunch of splendid medieval churches, a fine set of museums that are focused on the work of Rubens, who spent most of his career in the city.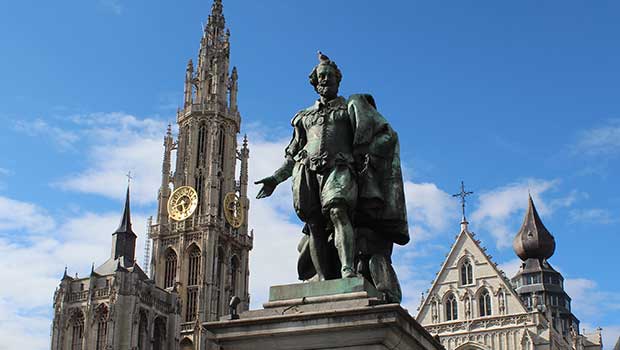 Antwerp is also one of the Europe's biggest seaports and an international centre of diamond trade, which make it a pretty lively and dynamic city and that defines the big number of bars and restaurants that you can enjoy there. Enjoying Antwerp is not the only thing you can do in the region, because here you can explore a great and charming range of suburbs, including Lier, Mechelen, Leuven.
When to go?
In terms of climate, Belgium has pretty standard European climate with a warm summer and moderately cold winter. The further south you go, you can expect temperatures rising with a couple degrees. Rain is always possible. All of the Belgium cities are an all-year destination and there is not a period of the year that is more or less recommended for visiting them. Bruges is, however, the most popular spot for visiting in August, while the Flanders are highly recommended to be visited anytime between spring and late autumn.
Essentials
Belgium is one of the smallest nations in Europe. In Belgium live three main linguistic groups – French-, Dutch- and German-speaking. Flanders is the Flemish-speaking (Dutch-speaking) part, while Wallonia is the French-speaking part of the country. Both Flanders and Wallonia have their own regional administrations, as does the capital Brussels. Brussels is officially bilingual. Belgium is a constitutional monarchy. If you start from some of the European capitals, you are spoilt of choice, when it comes to how to get to Belgium. There are flights (also low-cost ones) to Brussels from almost all of the European capitals and big cities. Eurostar trains direct from London to Brussels too. You can also use a ferry. Eurotunnel services from Folkestone to Calais, a short drive from the Belgian coast. There are frequent international buses to Brussels from many European capitals too.
Belgium is a small country with a well-developed infrastructure, which makes travelling across the country an easy-peasy thing. Local transport s very reasonably priced. Belgian infrastructure includes an extensive train network and frequent and fast buses. Hotel accommodation is a bit higher than the European standard in Belgium. However, there are budget alternatives too, such as small and family guesthouses to options with a host or rented rooms in private houses. Belgium's annual festivals/carnivals are held in February and early March. The carnival held in February at Binche, in Hainaut, is one of the most popular and amazing ones. The procession involves more than 1500 unique-dressed dancers that are called Gilles. There are also carnivals in Ostend, Aalst, Eupen and many other places.
Belgian cuisine, especially the one served in Brussels and Wallonia, holds a great reputation and it is often included in the top world's most delicious cuisines rankings. For many Europeans, Belgian cuisine is second only to French in quality. For such a small country, there is a surprising diversity in terms of regional cuisine. Some of the staples of the Belgian cuisine are pork, beef, fish and seafood (especially mussels). Accompanied often by butter, cream, herbs and sometimes beer, meats are often enjoyed on a Belgian table. Beer is Belgium's national drink and here you can enjoy a great variety and quality of beers. Soup is also a common part of the local cuisine. Cafes and bars are the most inexpensive places to eat in Belgium. Restaurants are a bit more formal and more expensive.