Travel Websites That Help You Plan Your Next Vacation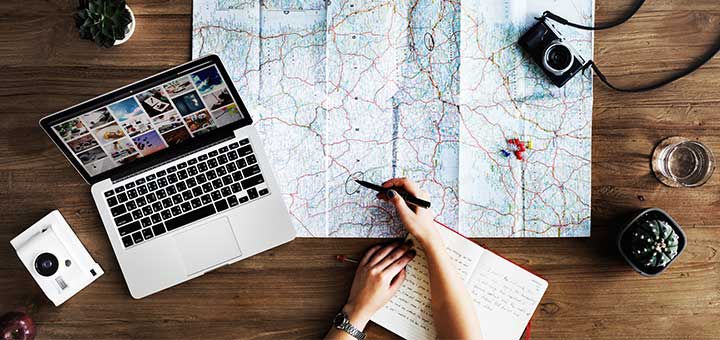 Travelling is an amazing experience, but for the most part, the majority of us find it a bit difficult and not that enjoyable to plan a journey or holiday. In fact, we approach our holiday plans with a lot of enthusiasm at first, but as it gets pretty clear soon, there are way too many things to think about, consider and worry about. In order to make the whole experience a bit more enjoyable and easier to tackle down, today we present you the most popular websites to help you find and take advantage of the best tourism, travelling and hotel offers. So without further ado, let's explore them all!
A useful and helpful website that guides you through the world of efficient money saving ideas, tips and tricks, as the name suggests. Traveling is one of the aspects MoneySavingExpert is touching upon, so if you are looking for some creative ideas and recommendations on how to travel on a budget and save some extra money while visiting new destinations – this is the right place to browse. All the money-consuming details you have never think of when travelling – learn how to find the best and most cost-effective solution.
As the name suggests, this site is your best helping hand, when it comes to finding great accommodation deals and offers. After all, finding great flight fares is just not enough and you can save up so much by researching the hotel and accommodation first. The website is offering a list of thousands of accommodations and hotel options and it is updated daily to help you find good last-minute offers. It is also offering seasonal sales, when you can spot and grab the best bargains and offers. There is a rewards program – for every 10 nights you stay at a place you can find on the website, you can get a free night's stay!
Yet another one really popular and helpful website that offers millions of opportunities to find an accommodation on the cheaper side. The website includes thousands of vacation rentals that are really good value and offer more place and lower prices than the hotel rates. The best part is that you can feel like a local and get an authentic experience by spending your nights abroad in a home-inspired accommodation and even with a local host to help you make the most of your city you are staying in. It offers more than 3 million vacation rental listings in more than 190 countries.
This website has the same working mechanism as Airbnb. Here you will find more than two million vacation rental listings in 190 countries of the world.
Are you looking for the cheapest fares, when it comes to flights? Then Kayak is your reliable helping hand with a great selection of amazing airfare deals and offers. Especially if you are flexible on destination and time, you are going to be able to find and take advantage of some really amazing offers you cannot resist. In case you want to make the most of your search, make sure to check out for flights three days before and after your ideal travel dates and do not forget the check the weekend fares too. To make things even more helpful for you, the Explore tool on the website allows you to scan a world map for all the places you can reach to within a specific price range, so you can benefit from many new and exciting ideas and inspirations. One of the most useful features of the website is the price predictor one that forecasts, whether or not fares will go up or down. Simply enter your dream destination and the website will provide you with a list of flight options and whether or not to buy them now, or wait for the fares to drop.
TripAdvisor is one of the most popular websites in the world to help you get the best accommodation and hotel room offers, deals and bargains. The website is offering thousands of reviews for hotels and accommodations, so you can make sure that the place advertised is exactly the place you are going to visit. Simply search for your destination and the website will provide you with a list of hotels and other accommodation options and alternatives. You can then filter the results to the ones that meet your needs and requirements the best. TripAdvisor do not sell rooms or actual offers, but its tools are very helpful to orientate you to the best places for your preferred destination and price range and also links you to partner sites, where you can actually purchase an accommodation package from.
Google Flights is a bit of neglected tool, but indeed very helpful and useful, when it comes to finding some great airfare deals and offers. Its best feature is comparing multiple airfares, combining the best prices, destinations and duration and so much more!
This one if one of the best websites, when it comes to last-minute journeys, so if you are ready to leave the house within days, or even hours, in order to get an amazing offer, then this is the right place for you. The website is based on actual people looking for and gathering information for the best flight deals for you. To make things even better, the website includes offers and deals from smaller and not that popular airlines that often do not appear in the more popular and bigger websites.
This website works similar to AirfareWatchdog, but a website with additional great deals never hurt nobody, right, so why don't you have a look there too? The Flight Deal is your ultimate helping hand in finding amazing flight deals out of major cities in the USA. The website is also very helpful with its step-by-step guides to how to find flights and dates with the lowest price.
When it comes to longer and overseas flights, WhichBudget is your best friend. The website helps you check out and plan an inexpensive overseas flight and discover cheaper international airlines.
This website is a great option for earning money, while traveling! The mechanism is pretty simple – a number of major airlines will refund you with the difference in the price, usually in the form of travel credit or vouchers, in case the fare falls below what you paid for your ticket! This sounds great, right? Simply enter your flight information at the website and the website will do all the job for you by tracking all the fares for you!
Priceline will provide you with the standard online travel agency services and also help you track and find the best accommodation and hotel offers and bargains, according to your requirements for star class, preferred neighborhood, dates of stay and price. You can save up more than 50% of the published hotel price, but there is a catch – the website won't inform you which hotel you are booking until after you pay. In fact, blind bookings could be risky, however if you are not that picky with your accommodation, it all might turn out to be the best bargain you can imagine!
This website is a great helper in case you find yourself faced with the expensive fee after cancelling a hotel room or accommodation and the website will help you be refunded for some of your losses by posting your reservation for sale. All you have to do is setting your own price (just make sure it is at least 20% below the original price) and hope for the best!
Cancelon is yet another website that works exactly the way Roomer is. List your own price for hotel room reservation you are not going to benefit from and the website will do all the job to help you sell the reservation and get a big amount of the money you have spent back. Unlike Roomer, Cancelon will require you to take care of transferring the reservation from your name to the buyer's.
If you are not requiring a higher star class or a luxury hotel, BedandBreakfast will help you discover even the tiniest inns and also provide you with promotional codes and all the "hot deals" in your desired destination. This website is great for helping you spot the smaller, more non-popular accommodations that usually are neglected by the bigger websites.
Staying at a hostel is a pretty unusual and strange experience for many, but if you are a fan of hostels and the atmosphere there, in case you are traveling alone, or you simply want to meet people from all around the world that love traveling just like you, or you simply don't mind sharing your room with other people in order to get a really great bargain, Hostelz is the best website for you! The website offers more than 50 000 listings in about 8000 cities around the world.
Another great option to travel on a budget, save up money, while you are enjoying the world and get a good bargain is offered by HomeExchange. The website offers you the opportunity to exchange your home with other travelers (55 000 swappers you can choose from!).
Are you looking for a luxury and splendid hotel room? Then JetSetter is the place to look at and this website will soon turn out to be your favorite for private-sale of luxury-hotel deals. If you are not afraid of last-minute travel plans, than JetSetter will provide you with an exclusive access to amazing discounts for a limited time if you are a member.
The concept of this website might sound a bit too strange and intimidating to you, but if you are an adventurous type and you don't mind meeting new people, spend a couple of nights in their places (usually for free) and feel like a local, then you will like Couchsurfing a lot! The website will help you contact millions of people from all over the world that do not mind it to share their bedroom for a couple of nights for free, or simply new friends that would enjoy grabbing a drink with you or showing you around the city.
This website is really helpful, because it gathers in one place more than 300 travel agencies that offers the best deals and bargains for cruises, ships and ports according to your requirements for dates and prices. Additionally, it offers the help of live agents to guide you through the entire process of finding and purchasing a cruise.
Hotwire is one of the most popular websites for car rentals. It collects rates from eight car rental company partners and provide you with the best deals and offers. The website also offers you the blind-booking option and the risk is completely minimized.
AutoEurope works the same way Hotwire does, however the website is focused entirely on offers and deals in the big European cities and smaller towns with more than 20 000 locations.
It is yet another website to help you discover and tackle down some good car rental deals and offers.
Flights are not the only option to travel around and visit new places, especially in Europe, where most of the main cities are not that far away from each other. In case you want to travel by train, RailEurope is your helping hand, because it provides you with most of the European train timetables and help you book tickets.
Yet another helpful website to provide you with a guide to the best time of day to fly from a specific airport advice and also recommendations of which terminals to avoid for connecting flights. You can also get information about flight delays.
Another great way to be informed of flights delayed by weather or other events is the app TripIt Pro. If you become a member, the app will send you alerts about delayed or cancelled flights and gate changes, usually ahead of the airline announcements.
Do you find yourself in need of a passport photo and you have limited time? ePassportPhoto is your reliable helping hand when you don't have enough time for a professional photo, or you just want to save some money, because it allows you the opportunity to take your own photo with your digital camera, then size it properly and printing it yourself.
When travelling, especially when travelling abroad, you should be prepared for all kinds of situation and take the risk of emergency situations spoiling your holiday to the minimum. InsureMyTrip helps you in this mission because it gathers in one place the best deals and offers for travel insurances!
AllTheRooms
In case you want a combination of all the popular accommodation search websites mentioned above, you will be surprised that such a search engine actually exists and it is called AllTheRooms. As the name of the website suggests, AllTheRooms will help you find the best accommodation, when you are travelling by catering for all your budget, location, convenience, size, etc. demands. AllTheRooms is certainly a place for everyone because its database is one of the most comprehensive and detailed collections of accommodations available in the majority of the popular websites, as well as those lodgings that are not listed in the search engines you use regularly. Helpful, isn't it? With almost 1 million rooms in every corner of the world, AllTheRooms guarantees to provide you with a detailed list of hotel, hostel, private, vacation rental, couch options and much more!