12 Amazing Destinations for First-Time Travelers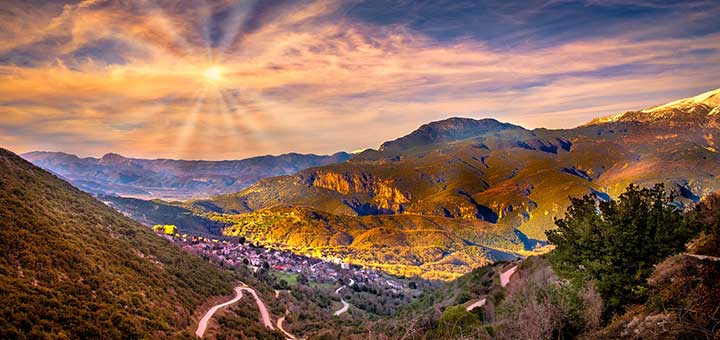 We all got to start from somewhere. The saying is very true, especially when it comes to travelling. For a first-time traveller, it could be a very challenging and overwhelming thing to choose a destination. Experienced travellers know what they are looking for, know what they will enjoy doing and what place to visit, they know how to organize a great journey going through all the details. However, even experienced travellers sometimes make a mistake, despite the fact that we don't believe that any trip could be a mistake.
However, if you are a first-time traveller it is probably a good idea to start from something less exotic and unknown and go on the beaten tourist track at first. Starting with a place that is closer to your comfort zone and more familiar when it comes to culture, people, even geography and location is perhaps the best idea. This is why there are a lot of places in the world that are known to be extra first-time traveller-friendly. So if you are a beginner traveller looking to just go out and explore the world, here is a list of 12 of the best first-time traveller destination you can consider.
Thailand
If there is one place in the world that is simply heaven for backpackers and beginner travellers this should definitely be Thailand. The country is extra beautiful, extra interesting and exciting, easy to navigate, tourist-friendly, less expensive than a bunch of countries around the world, and what is most important – filled with like-minded travellers and backpackers to keep you company, help you explore, and make friends with. Thailand is an exotic first-time traveller one-stop-shop where everyone speaks English and there is plenty of guides and information available online for you to make a good research and plan all details of your trip.
You May Also Like: Top 10 Places to Visit in Thailand
New Zealand
A pretty distant destination for the majority of the world, however, New Zealand is a great spot to begin with if you are a travel beginner. It has so much to offer in terms of landmarks, natural beauty, unique culture, and youthful and vibrant atmosphere. Once again, it is a place where you can meet many like-minded backpackers. New Zealand offers plenty of amazing activities to keep you busy. In addition, the country has an amazing and perfectly developed infrastructure that can help you reach to wherever you want on a very good price. New Zealand is a smaller and safe country and the people are very nice and friendly.
You May Also Like: New Zealand Travel Destinations
Australia
Australia is larger than what you probably think and taking from A to B can take quite some time, it is very well-developed just like New Zealand and travelling around the continent is easy, comfortable, and enjoyable. In addition, Australia is a home to some of the most spectacular views and landscapes in the world so if you are an outdoor activities enthusiast it is definitely the best place to go. The country is visited by thousands and thousands of backpackers annually which means that you can meet and make friends with a lot of like-minded people from around the world.
You May Also Like: Australia Travel Destinations
Italy
Italy is one of the most visited countries in the world and there is no wonder why. Italy is a home to everything wonderful in this world – it has an amazing and versatile natural beauty, it has perfect weather almost all year-round, it is offering plenty to see if you are a history lover, it has a charming culture, it serves the most delicious food in the world. There are so many amazing destinations and bucket list items within the country that you can spend a whole month in Italy and still, you won't be able to explore even a half of Italy's wonders and charms. Italy is completely safe, full of great accommodations in all price ranges, and there is a plethora of information and guides to travelling in the country.
You May Also Like: Top 10 Places to Visit in Italy
Greece
Greece has been catering for all sorts of tourists for a very long time so you can assume that if there is a country that is really a professional at tourism, this would definitely be Greece. An amazing destination for great culture, great history, and great food, Greece is very popular during the summer period which is longer in the country with sunny and enjoyable weather almost all year-round. There is plenty to do and so many unique experience in Greece and you can easily organize your own trip since there is so much information and help offered in terms of where to go, where to stay, what to try, what to do, etc.
You May Also Like: Top 10 Places to Visit in Greece
Chile
In general, many parts of South and Central America are not that easy for a first-time traveller but Chile makes an exception. Chile is really surprising, very atmospheric, and beautiful. While the smaller villages and some outdoor activities may be a bit too overwhelming for a travel beginner if you stick to the larger cities and the main landmarks you will be absolutely ok even with no prior experience in travelling. The capital city Santiago is very well-developed has a great infrastructure, it is very safe, and it has plenty of things to offer for you to experience in terms of history, culture, sightseeing, food, and entertainment. If you speak a bit of Spanish it will help you a lot, however, ever with just English, you are totally ok. In the larger cities, there are plenty of tours offered with a lot of information and guidance to help you feel comfortable and safe.
You May Also Like: Chile Travel Destinations
Switzerland
There is nothing to hate about Switzerland. Besides being extra beautiful and offering some really breath-taking views, Switzerland is extra officiant and so well-organized. Everything is running on time in the country so getting around with local buses, trains, and public transport is simply a heaven for every tourist. Everything is done perfectly to the smallest detail in Switzerland, where there are four official languages that are widely spoken – German, French, Italian, and Romansh. However, you will meet plenty of people using fluent English too. You will get different feels from the different parts of the country, where each part is heavily influenced by a different culture.
You May Also Like: Switzerland Travel Destinations
Singapore
Despite that there are four official languages in Singapore, English is at least to say widely spoken. Singapore is South Asian cosmopolitan country and city all in one. It is very multicultural, exciting, and interesting. As one of the best-developed economics in the world, Singapore pays attention to all details and everything is very officiant, so it is super easy and very safe to get around and enjoy all the attractions this place has to offer. With a lot of activities, nightlife, cultures, and delicious food Singapore is definitely one amazing destination for first-time travellers.
United Kingdom
There is plenty to explore and do in the United Kingdom since you can enjoy four different countries – England, Scotland, Wales, and Northern Ireland. All of these countries have their own and unique culture, many sites. The United Kingdom is truly the perfect destination if you are a history and culture enthusiast. The transportation system in the United Kingdom is very well-organised and developed, there are plenty of options to travel around. However, keep in mind that public transport in the United Kingdom is a bit on the more expensive side.
You May Also Like: Top 10 Places to Visit in the United Kingdom
Mexico
Mexico is truly a huge and diverse country and some parts of it are a bit more challenging for first-time travellers but other are so tourist-friendly that you will feel completely comfortable. It feels like Mexico is the resort capital of the world and if you truly want to indulge yourself with a memorable and extra pleasant holiday, make sure to head to the country. Mexico's resorts are usually filled to the brim with young people and there are lots of activities and entertainment offered too.
You May Also Like: Top 10 Places to Visit in Mexico
USA
USA loves tourism and the many big and cosmopolitan cities in the country are definitely one of the most tourist-friendly places in the world. The best part about travelling in the USA is the fact that the country is so large and so diverse that you can have a taste of everything you can imagine, from amazing nature and vibrant urban metropolises to plenty of different cuisines, diverse cultures, historical places, and some unexpected hidden gems here and there. Travelling around the country is extra easy as you have a number of well-organized transport options. It is really easy to find your way, plan a trip, and book things in the USA and this is why the country is a great starting point if you are looking to get started with travelling.
You May Also Like: Top 10 Places to Visit in the USA
The Netherlands
If you are looking for an authentic European-style travel, the Netherlands is one more great place to visit. It is very well-developed to welcome tourists from all around the world. The Netherlands is definitely on the beaten tourist track with millions of tourists visiting the country annually, mainly young people and fellow backpackers. With a lot of cool things to go do, a lot of interesting places, a lot of cultures, and a lot of English-speaking people, the Netherlands should definitely be on your bucket list.
You May Also Like: Netherlands Travel Destinations