Guest Post: Facts That Make Dubai a Sought-after Destination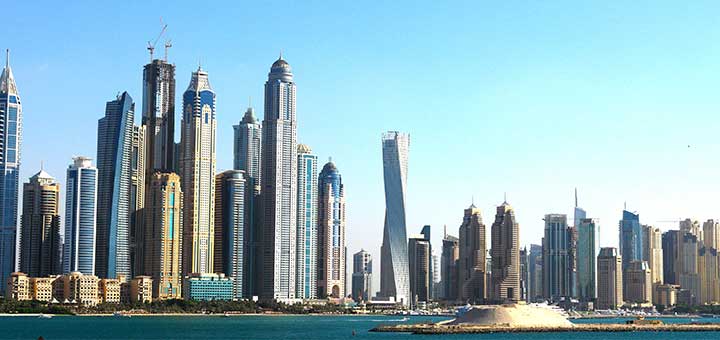 Do you want to explore the most interesting facts making Dubai a popular destination? In this guest post, Neha Singh shares her best secrets inspired by her love for travelling, trekking, delicious food and meeting new people. Besides adding a taste of adventure to our website, you can follow Neha's travel acumen on Dubai Wikia where she usually pens her favourite journeys down.
Why does the name Dubai is a factor in everyone's travel list? It's because the city simply doesn't give up innovating new and even more exciting lifestyle projects. It all began with the Palm Jumeirah, that fabulous manmade island made out of land reclaimed from the sea off Dubai's coast. This incredible, palm-tree-shaped island made everyone sit up and since then, Dubai has been innovating bigger, better and larger structures. The Burj Khalifa is Dubai's crowning glory but Dubai was not willing to rest after that. Here are some fabulous facts about Dubai that explain without any justification needed as to why Dubai is such a sought-after destination.
A Journey into Modern, Bustling Dubai
Dubai has come a long way from its pearl-farming days just a few decades ago. Apart from a few bits here and there, the entire city is transformed into a magical, multi-dimensional destination aimed to titillate, entertain and make money.
Dubai from Afar
One can see Dubai from several hundred miles away – or rather, one can see the tip of the Burj Khalifa from several hundred miles away on an airplane.
Downtown Dubai
Downtown Dubai is like a utopian vision; all mirrored brilliant buildings with no signs of decay or filth anywhere. No homeless people, no graffiti and no signs or posters spoiling the beauty of the city. The first sight of the stupendous Dubai Mall set opposite the unbelievable Burj Khalifa and the biggest fountain in the world really hits you in the stomach. It's too much to take in all at once. Ski Dubai's weirdness is another punch – the juxtaposition of Dubai's dry hot sands with the icy world within Ski Dubai is unbelievable. The Sheikh Zayed Grand Mosque is a grand sight to see when its 80 enormous domes are lit up in the last rays of the sun. Sheer poetry in carved Macedonian marble, the mosque with its four minarets and the 180,000 square foot is a repeated crowd-pleaser.
The Dubai Marina, JBR and the Palm Islands
The next set in Dubai's stupendous offerings is the Dubai Marina, a pristine place to set one's eyes at. You never saw such expensive yachts as are moored at the marina. The man-made Palm Islands are incredible up close, especially with the imposing Burj Al Arab and the Atlantis the Palm hotels straight ahead. The entire thing is picture card perfect, no doubt about it.
Old Dubai
The contrast between the magnificence of the rest of Dubai and old Dubai's ancient souks always puzzles tourists. As you cross the Dubai Creek into the cities of Deira and Bur Dubai, you'll hear the hawkers' calls as they bargain with customers over spices, gold, carpets, leather goods and pashmina shawls. All of a sudden, you'll feel as though you're miles away from any modern city. The Al Fahidi Fort offers a glimpse of the lost world of pearl diving, of the way things were before oil was found in the sixties.
Food in Dubai
Dubai has perfected every cuisine out there. Whether you're after Greek or Lebanese, Italian, Moroccan, Chinese, Japanese, Thai, Mexican, American, Indian or Korean, you'll find it here. Be sure to enjoy the extremely tasty and hygienic food at the fast food outlets. Dubai has become a gastronomic destination of late, especially with the Dubai Food Fest launching in February each year.
Fun and Intriguing Facts That Makes Dubai an Amazing Destination
Here are some facts about Dubai that you'll love to read. These facts help you understand how Dubai goes out of the way to achieve perfection in every project it undertakes.
1. Did you know that the Burj Al Arab uses enough gold to cover the Mona Lisa painting 46,265 times? We bet you didn't!
2. Dubai's manmade Palm Jumeirah Islands utilize enough sand to fill 2.5 Empire State Buildings. That's something!
3. The Dubai police force doesn't drive regular cop cars; they drive Bentleys and Ferraris, to catch up with criminals who drive Bentleys and Ferraris. Guess what? They spend more on each super car than it costs to send a child to college in the US.
4. Dubai's camels are being ridden by child-sized robot-jockeys at the famous camel races. This is because, given the camel's size, only children can ride them in races. In the past, children were illegally trafficked into the country just to get them to ride the camels during races. Now, the internationally-savvy Dubai is using robots so as not to upset other nations.
5. What to expect next from Dubai? Quite a few projects, but here's a shocker. Dubai is building a city that's about 2.25 times the size of Monaco that'll be completely 'climate controlled'. Watched the 'Dome' anyone?
6. Dubai's most famous one-of-a-kind show, La Perle, takes place at a state-of-the-art theater located in the heart of Al Habtoor City. La Perle has a cast of 65 artists who jazz up the live performance with acrobatics, aquatic and aerial stunts. La Perle by Franco Dragone is a show of such magnificence that you'll feel literally transported into another world.
Upcoming Magical Projects in Dubai Planned By the Dubai Government
Dubai does not rest on its laurels; no, the country keeps innovating, keeps working on far-out ideas (or what seems far-out to us!) till it achieves them. Here are a few upcoming projects that we'll soon see come to fruition in Dubai.
Dubai Frame
Imagine the largest picture frame in the world. Would it be 150 meters high and 93 meters-wide? We bet it wouldn't. These are the dimensions of the world's largest frame, the Dubai Frame. It's a ginormous picture frame that frames the lovely sight of the Dubai Canal and surrounding areas. The frame's two towers are connected by a 100-square-metre bridge with a 25-square meter glass panel insert. The Dubai Frame's ground floor will be a museum that showcases Dubai's transformation from its humble beginnings to the incredible city it is today. Each floor from there on takes people into a journey of transformation and into future Dubai, 50 years from now.
Bluewaters Island, Dubai
The tallest Ferris wheel in the world, the Ain Dubai or Dubai Eye, is located on the ambitious Bluewaters Island project in Dubai. Valued at AED 6 billion, Bluewaters Island is expected to draw about three million guests each year. Of course, needless to say, Dubai Eye will be the main draw, with its incredible height and the panoramic views you get from high above. However, apart from Dubai Eye, Bluewaters Island will present several entertainment zones for the whole family, plus 5-Star hotels and residences and every imaginable luxury aimed at pulling the tourist crowd in.
The World's First Flying Taxi
Dubai is getting ready to unveil the world's very first flying taxi, which it hopes will become the next big tourist attraction. The flying taxi will be part of the world's first self-flying taxi service brought to the city by the Dubai Roads and Transport Authority. It's a two-seater, has no need of a pilot, and is fully operational by remote. Of course, the taxi will have to be whetted for safety and thoroughly tested before actual tourists are allowed to ride in them but hey, the future is here!
The World's First Underwater Resort
Dubai is busy building a new floating resort about 2.5 miles offshore that will cost the government USD $680 million. This incredible floating resort will have four decks underwater; it will have 414 cabins, 12 restaurants and bars and 12 floating beaches for the 3,000 guests it'll house per day. Guests will arrive at the resort via seaplane or helicopter. The resort's suites are spread out, separated by man-made water canals. Guests and their luggage will be transported via romantic gondolas.
Conclusion
Dubai loves everything to be big, grand and awe-inspiring and that's one of the reasons why people are so intrigued by this nation. Dubai is a fascinating city, a blend of young and old cultures. When in Dubai you'll see Emiratis wandering in their traditional robes around western-style shopping malls. This is where women wearing black abayas will be checking out the dangerous lingerie collections in Victoria's Secret. It's a city of such incongruous contrasts that simply don't strike you as contrasts when you're there. Dubai is a magical city where everything seems to blend in. You become a part of the city and not the other way around.