10 Tips for A Spectacular Honeymoon on a Budget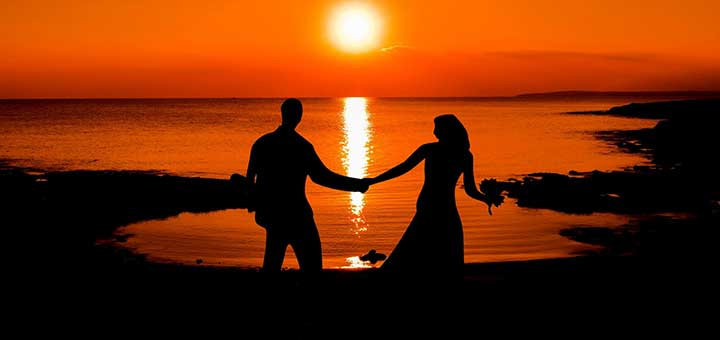 Honeymoons are an excellent way to begin a new life with your sweetheart, but they can also be an excellent way to empty out the bank account. While the lucky ones are often handed a pair of tickets at the wedding reception and told to have a great time, many of us have to pay our own way (much like we did with the wedding itself). If that's the situation you're in, then it's all the more crucial that you find a way to have your getaway without breaking the bank. That doesn't mean you have to miss out on any of the fun, though. There are ways to stretch the dollar and get the most from a vacation without having to blow through your life savings. With a little good advice and a little ingenuity, you can put together the honeymoon of your (and your wallet's) dreams. Here are 10 ways to get it done.
Plan Early
While you can sometimes get deals for filling last-minute spots in hotel rooms, and on flights, your sure bet will typically be to plan well ahead of time, and getting early bird discounts. Airline prices increase dramatically the closer you are to the time of the flight, and booking in advance for a cruise can net you as much as a 55% discount. Planning ahead also affords you the freedom to plan your schedule around the trip. Knowing a year ahead of time that you're headed to Cancun for a week makes it easy to let your boss know that you need a week off, and when. It also makes it easier to coordinate wedding plans with travel plans, so that you're not rushing to the airport still in your gown and tux.
Try Something Nearby
Never underestimate the value of a staycation. Choosing a location that's close to home or within driving distance has a lot of advantages. You save on airfare, you're more familiar with the area and the weather patterns, you don't (typically) need a passport. And let's be honest: every area has its little-hidden charms and well-kept secrets that make perfect affordable date activities. By taking a vacation someplace close, you're giving yourself permission to explore and see the area with new eyes. You're bound to discover what's unique about the area if you do a little digging, a little asking around, and a little planning. Who knows? You may have more fun at home than you would have had abroad.
Follow the Dollar
If you're planning on going abroad, remember that some places have more favourable exchange rates than others. Going from the U.S. to Mexico means you'll be spending less money while going from the U.S. to Europe means you'll be spending more. If you don't have a particular destination in mind, picking a location where your money has more value can save you a lot of cash. Be sure to research travel guides before embarking on your vacation to get the most bang for your buck.
Go For Conventions
It may seem silly, but a honeymoon is actually a great opportunity to head to an event you wouldn't normally be able to attend. Whether it's Comic-Con or a big Country Western concert in Nashville, taking the opportunity to celebrate something the two of you are both passionate about can be a really exciting experience, and a fun way to kick off your new life together. Just be sure it's something you both enjoy; you don't want one of you to have to play tag-along when you'd rather stay in the hotel to pursue more romantic activities.
Visit the Great Outdoors
You can save a lot of money by skipping on the amenities and roughing it instead, especially if you already have the necessary equipment. Spending some quality time around a quiet campfire out in the woods is one good way to forget about the rest of the world for a few days. Besides, if you pick the right place, there won't be another soul around for miles, so you can completely monopolize your partner's time. Just be sure you bring plenty of bug spray.
Shoulder Season
Most major tourist destinations, be they France or Cancun, have a busy season, and an off-season. The busy season is when most people want to go (France in the late spring, for instance, or Cancun during the late winter), and an off-season, when people are either busy or the weather isn't quite perfect. While you can usually save quite a bit by visiting these destinations during the off-season, you can save money and enjoy the better weather by going during the "shoulder season"—the period of time just before, or just after the busy season.
Consult the Locals
Travel guides and the internet are nice and all, but if you want the real scoop on what to do and where to eat (especially for prices the locals can afford) you have to "do as the Romans do." Get advice and directions from locals who live in the area, and know what's fun, and where to find good food. You may have to venture away from touristy areas, but you're more likely to have an authentic experience this way.
Consider All-Inclusive Packages
Sometimes, your best bet for saving money is paying for everything up front. All-inclusive packages give you a flat fee to cover the whole shebang, meaning there won't be any guesstimating food prices or taxi fares. Cruises are famous for this, but resorts and tour guides often do this too. By opting for an all-inclusive package, you might just be able to take that romantic island vacation without breaking the bank.
Mention the "H" Word
You'd be surprised how much mileage you can get out of "It's our honeymoon!" when you're making travel arrangements. Much like mentioning a birthday at a restaurant, sometimes you'll just get a "good for you!" Sometimes, though, you'll get free stuff, like flutes of champagne at dinner, or a free room upgrade. Either way, it never hurts to bring it up.
Work With a Travel Agent
It may sound like a novel idea, it may not, but leveraging the experience and network of a travel agent can be very effective at planning a getaway on the cheap. Because they do it for a living, travel agents have their thumb on the pulse of the travel industry and tend to know where and when to go to get good deals for their clientele. They also tend to have contacts that help hook them up both with information and with cheap prices. Whether you're dealing with a cruise franchise to plan your perfect ocean getaway, or you're working with an expert in tours to set you up with the perfect European getaway, a travel agent can help make your post-nuptial dreams come true. Having a strict budget shouldn't be the reason you can't enjoy a luxurious honeymoon. If you're willing to do a little legwork, you can plan an affordable getaway that you and your sweetheart will remember long after you return home.