Backpacking and Camping Packing Guide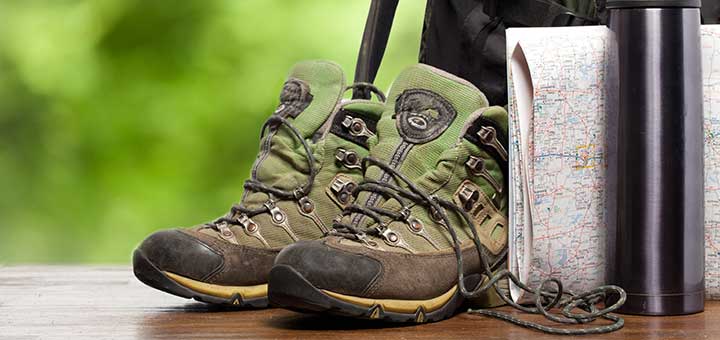 If all you want to do this autumn is being out there in nature, backpacking and camping the beautiful and diverse lands this planet has to offer and enjoying the art that Mother nature creates, then you should not way anymore. Just grab your backpack and head to the first camping ground you want to visit. However, if you are a first-time backpacker you normally will be full of enthusiasm but equally lost in your decision of how to get all your belonging fit into a single backpack that doesn't have to weight a ton, otherwise it will make your whole migration extra uncomfortable, painful, and disappointing, and still make sure that you have packed everything you may need.
Believe us, it takes a few backpacking and camping trips to start getting a grip on what are the essentials you should take with you on such as journey without over-packing. In fact, life in nature and on a camping ground can offer you so many interesting and unexpected situations that even experienced backpackers not always necessarily own everything they might need… or use everything they bring with them. However, there are a few packing essentials that everyone, who wants to become a pro backpacker and camper can follow. Here are a bunch of them!
First things first, choosing the right type of backpack keeping in mind your individual specifics is very important. The wrong backpack design and model, as well as uncomfortable handles, can turn into your camping life nightmare. While having uncomfortable handles rubbing your body for a few hours up to a day can be very inconvenient and challenging, it can also have a long-term effect on your health and you could start having issues with shoulder and back pain.
This is why you should take your time, do your research, advise with the specialists, and invest into a high-quality and ergonomic backpack that meets your specifics and needs, even if you are planning to camp just a couple of times in your life. Remember that there are backpacks with handles designed specifically for women as their shoulders are less broad than the male ones.
So what are the essentials you take with you when camping and backpacking?
Tents, sleeping bags, sleeping pads, sleeping pillow
Of course, when choosing these major camping essential, you should choose wisely as these will be your home and the roof above your head in the next few days to a few weeks. High quality is number one thing to consider, but comfort, ergonomic designs, easy-to-maintain and arrange, lightweight, waterproof are just a few of the other very important traits to look for.
A portable kitchen
Happily enough, there are enough portable kitchen accessories and tools you can bring with you when backpacking that are designed for camping especially. Now, some campgrounds do offer the chance to share hiring a very basic kitchen or have it for free. Some even have little eateries established nearby.
However, if you don't have access to these options, you want to camp in a bit more wider place. Or you simply want to experience the camping life to its fullest without all the comforts of everyday life. Then a portable stove is a very important thing you should bring with you. Just make sure you choose a high-quality, lightweight model and always research the instructions before camping so you are sure that you know how to use the portable stove in a safe way.
I addition, there are enough cooking accessories available on the market that are designed for camping. Small and multifunctional pot is one thing you want to bring together with your stove. Having a multifunctional lid that can turn into an even smaller pot is very comfortable too. Bring a working lighter, otherwise, your stove will be completely useless. Multipurpose utensils are essential too, along with portable plates, bowls, and cups.
Food products
Essential camping foods and food products you should pack with you are important too. These should be filling enough to give you a lot of energy, lightweight, hard to spoil and easy to store for longer, easy to prepare and not requiring too much gas (remember, your little portable gas stove can easily run out of gas anytime), and, of course, delicious. Some of the popular options you have for breakfast, lunch, and dinner is porridge, crackers and cookies, sandwiches, fruits (harder ones as these will get pressed), nut and dry fruit mix (without the chocolate, as if it is hot chocolate will melt), ready-to-use camping packets.
Freezer bags
Pack freezer bags, like these, can have a lot of purposes and also come in small packages that are light enough and small enough to fit anywhere. Some of the functions of a freezer bag include using it simply as a bin bag, to store food, dirty clothes, various other items, and even for more creative purposes as creating your very own waterproof shoes.
Clothes and Shoes
As for clothes, hiking shoes is the first and most important thing to consider. Invest into high-quality ones that are strong enough to go through a whole day of hiking and trekking, they have a good grip for when you are hiking challenging trails. They will keep you warm when it's cold and have a good ventilation for when you are hot and sweaty, they are waterproof and very comfortable. The rest of the clothes depends on the weather and climate, but in general, make sure to bring a hat, a pair of flip-flops, socks and underwear, waterproof hiking pants and jackets, a warm jacket, t-shirts and hiking shorts, a good pair of thermals, a pair of gloves.
Other little essentials include:
Charged phone
Phone charger
Portable power bank
Sunscreen
Wilderness wipes
Flashlight, tissue paper
Hand sanitiser
Water purifying tablets
Water bottle
Toiletries such as deodorant
Dry shampoo
Toothbrush and toothpaste
Sunglasses
Eye mask
First-aid kit
Waterproof rain cover for your bag
A little umbrella
Bathing suit
Portable mirror and a brush
Any medications you might use quick-drying towels.
---
You May Also Like