Visiting Mexico With Children – What You Need To Know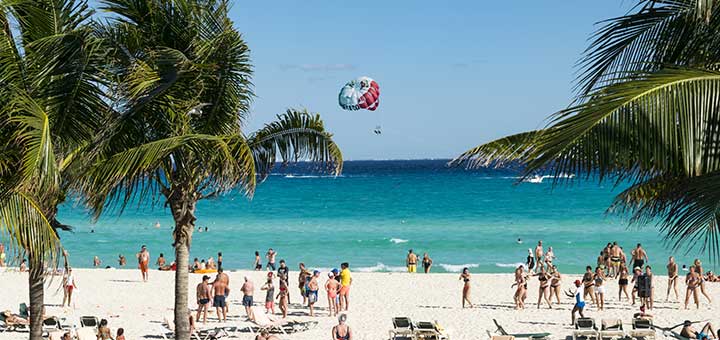 Mexico is this dreamy, exotic, very colourful, and emotional summer holiday escape destination that can successfully inject so much colour, flavour, and feelings in your otherwise grey, hectic, and very busy workweek. In addition, Mexico is a great destination to visit because it is completely family-friendly and definitely enjoyed by all generations. Even the younger travellers won't be disappointed by the amazing beaches, a plethora of entertainment and outdoor activities, and the overall fun atmosphere in the country. So whenever you are considering some children-friendly destinations for your next summer holiday, Mexico is definitely a strong contender. Today we are going to provide you with some useful tips and tricks to keep in mind whenever you decide to visit this amazing country with your children so the whole family can enjoy a stress-free and exciting holiday.
Inner journeys can take long. There is no doubt that many places in Mexico deserve your attention and depending on the time you have on hand when visiting the country, you can consider travelling around instead of spending your whole time in a resort. Travelling around in Mexico by public transport is neither dangerous nor confusing, it is an easy and popular method for getting to know the country and enjoy it more. However, if you are travelling around with your kids you should be aware of the fact that Mexico is a pretty vast land and distances can be huge, so make sure that your kids are ok with long journeys and be prepared for some. Still, if you want to travel inside the country a lot, but your kids cannot be bothered with long journeys, consider internal flights as a way to save up time and stress.
Children under the age of 18 can enter Mexico either with their own passport or on the passport of a parent. However, the child or children should be travelling with this parent. In case the children are not travelling to the country with both their parents, they will need written consent from the absent parent.
Mexican food is known to be spicy. Sometimes very spicy. Mexican dishes are usually not spicy in themselves. However, they are often served with very spicy salsas and these are usually not enjoyed by kids because they cannot handle the spiciness. Another thing to watch out for is mango- and tamarind-based sweets as these often contain a significant amount of chillies!
The intensity of the sun across the country is very high and this is the reason for the pleasant, almost all-year round hot climate in the country that attracts a lot of tourists in the coastal resorts, but this is also a big thing to bear in mind when travelling with children. Make sure to use a high factor sun protection for your kids in order to protect them from the intensive sun. Always make sure to re-apply the sun protection product every 2-3 hours as this is the optimal time the product is protecting the skin. Re-apply sun protection after your kid has been swimming in the pool or the sea too. The middle of the day is the time the sun is at its highest peak so make sure you are not exposing your kid for a long period of time during this part of the day. Better encourage them to play in the shade.
Mexico City has some really interesting museums for all generations and if you are visiting or spending your time in the city, here are some great opportunities for entertaining your kids while making sure they are learning something new and interesting. Just visit Papalote Museo del Niño, the Aztec and Maya exhibits at the Museo Nacional de Antropología, Museo Interactivo de Economia, Universum Museo de las Ciencias.
All children enjoy animals, that is for sure. And when it comes to some amazing, unique, and exotic wildlife species, all children will be extra excited, that is for sure. Luckily, Mexico is a home to some amazing wildlife species and your family can enjoy exploring and learning more about flamingos, quetzals, parrots, and more. Another unique family-friendly activity you should definitely add to your list is whale-watching off Baja California or visiting the aquarium in Mexico City.
Large family resorts are an amazing opportunity to enjoy your summer holiday but small seaside villages are equally enjoyable in addition to bringing the authentic Mexican vibe you are not going to experience in the resorts. Places that allow more interaction with the locals and learning more about the local culture and history are a great opportunity for the little ones to fly back home with at least a few new things learned after the holiday. Some great and more authentic Mexican places are Tulum, Puerto Vallarta on the Pacific Ocean, and more.
Lunch is the main meal of the day in Mexico and it is taken very seriously. In the country, many restaurants will offer you a comida corrida or the menu del dia as it is known in the fancier restaurants. This is a meal that contains three or four dishes for around $5-8. Normally, by ordering the comida corrida you will be served a soup, followed by a rice dish or a plate of pasta, beans or guacamole, then the main course with fish or meat, followed by a dessert that is usually a fruit, rice pudding, or flan (crème caramel). Most of the restaurants will be happy to adapt the dishes to the taste of the more picky eaters.
Your children will most probably be mesmerised by all the colours, noises, and flavours of Mexico and so you are too. They will want to have something from the country as a memory or to play with and this is the right time to head to the markets of Mexico as they are the best place for shopping some really cool and unique toys, colourful costumes, trying some interesting and delicious Mexican street food, and, in general, experiencing the vibrant Mexican culture. This is an experience that can be enjoyed by the whole family.
In conclusion, Mexico is a country that really loves kids and is not afraid to show their affection to the little ones. So make sure to expect more than the usual amount of hugs, kisses, shows of affection and joy from meeting the kids. Even from people that are new acquaintances.