Top Tips For Traveling In Greece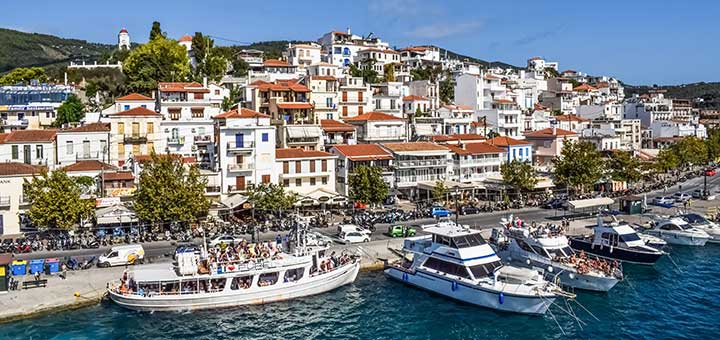 Greece is certainly one of the top summer holiday destinations and there is no wonder why so many people are visiting the country every year. Greece attracts so many people from around the world with ancient history, diverse culture, finger-licking delicious cuisine, a warm welcome, friendly locals and some of the most beautiful views in the world. Naturally, you would like to visit the country too, and if you have been there already, you would definitely want to come back, since Greece is a reflection of the ultimate summer holiday and not only.
Despite the fact that the image of Greece is a bit shadowed by media, the country is often a subject of immigrants, financial crisis and recent conflicts with Macedonia is the news, the truth is that any economic crisis or destabilisation won't be able to overshadow the real beauty of the country and the free and fun spirit of Greece. There are so many reasons to make you want to visit the country as possible, from the heavenly beaches to the magnificent mountains, from the historical heritage to the modern art scene, from the warm Hellenic welcome to the amazing cuisine, and today we are going to inspire you with a few more reasons!
Help Greece
Of course, there is not much you can do to help for the financial and economic stabilisation of Greece, but even the tiniest steps can be a lot of help to Greece. Instead of booking an all-inclusive resort summer holiday, when a very small part of the money you are spending is going to stay in the country and help the local economy, you better consider booking an independent accommodation and dining options. This way you are not only helping the country's economic, but also adding so much up to the whole experience – you have more freedom in making your choices about how to experience Greece and you can experience the country's authentic charm even better!
Avoid the high season
Of course, as we have already mentioned, Greece is certainly one of the ultimate summer holiday destinations, but keep in mind that the country is extra beautiful and amazing to visit all year round. Even the winter climate in Greece is very mild and perfect for wandering around and enjoying the surrounding beauty, so make sure to consider the destination next time you are planning a short getaway in the middle of the colder months. In addition, if you visit the country outside the peak season, you will be able to enjoy lower prices of accommodation and eating out. The high season between July and August is preferred by the majority of the tourists visiting Greece, but the truth is that Greek summers are blistering hot and the weather is not that enjoyable as it is the off-season.
Choose the mainland
Many islands of Greece are nothing but real pieces of heaven, but keep in mind that the country is not its islands only and there is so much to be seen on the mainland. Don't fall into the travel agents' trap and make sure to take your time to actually spend a few days or more in mainland Greece. Of course, visiting the popular and not so popular Greek islands is a must, but remember that mainland Greece is definitely worth it – from the majestic mountain range Pindos through the great number of archaeological sites dotted around the map, to the never overcrowded and always amazing beaches of the western Peloponnese.
Dine like a local
Greece is certainly a home to one of the best cuisines in the world and to add up to the whole experience – Greeks definitely know how to enjoy and even celebrate good food and a good dining experience. When in Greece, make sure to stay away from the very touristic dining out spots and go to the little cosy and atmospheric places where locals go to. Just one more thing to remember – Greeks usually eat pretty late, which means that dinner is served even after 10 PM!
Island Hopping
We know that we have already recommended you to stay on the mainland of Greece and enjoy it as much as possible, but as we have already said too, there is no denying that the Greek islands are extremely beautiful and worth visiting. Once very popular and at its peak in the 70s and 80s, island hopping is definitely a much more exciting and interesting alternative to spending your whole summer holiday at one island only. Well, in case you want an extremely relaxing and laid-back holiday, maybe staying on one island for about a week is not that bad, but the chances that you start getting bored spending the whole time at one place are high. With plenty of convenient and cheap ferry services, you can be at a new place with the dawn of every new day ahead.
In a Greek minute
Punctuality is certainly not the most popular feature in Greece, so when you are visiting the country, embrace the "local time", or more like how people understand the time working. Do not get stressed over ruined schedules and buses and trains not coming on time, because Greeks are simply not the kind of people going the extra mile to be on time. In fact, Greeks are usually so relaxed in their concept of time that there is a popular belief that nothing needs to be done in a hurry and there is nothing wrong with procrastination. To be honest, getting used to this philosophy could be a bit challenging a first, but soon you will find yourself understanding it… and even enjoying it!
Be culturally sensitive
Despite the fact that young Greeks are very forward and free-orientated in their way of thinking and perceiving the world, keep in mind that the older generation is still a bit conservative and not that easily open to the new. In addition, Greeks, especially the older ones, are sometimes too proud of their own culture and history, which means that they are not that open to new cultures and foreigners. Don't panic, Greece is still a very warm and welcoming country and you are guaranteed to spend an amazing time and meet friendly locals everywhere, simply keep in mind you have to be respectful to the locals, their culture, the history of the country. In fact, you should be respectful to every country you visit and to your own too.
Beware of directions and regulations
Getting lost in Greece is an easy-peasy job, especially if you try to ask for directions the locals. There is a popular belief in the country that if you ask five different locals for the directions to some place, you will most probably get five different answers. Because of that we highly recommend you sticking to Google Maps or simply to maps.