10 Sri Lankan Dishes You Must Try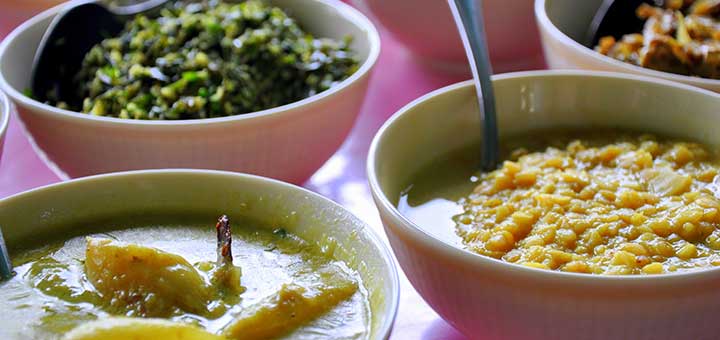 It is surprising how this little, tear-shaped island in the Indian Ocean called Sri Lanka, has so much to offer to the ever-wandering and ever-searching heart. An authentic, unique atmosphere, a lot of cultures, friendly locals, amazing views and landscapes, breath-taking nature and one of the most important aspects of discovering and enjoying another culture and world – finger-licking, unique and delicious cuisine, all this can be found and enjoyed in Sri Lanka.
Despite the fact that Sri Lanka's culture is very distinctive and one-of-a-kind, years of colonisation and trade have introduced this little and rural country to some overseas influences, which spices up what the country has already to offer in a cultural and culinary context to result into spice-filled fusion of indigenous flavours that will probably hypnotise your taste buds and teach you how to experience a real culinary Nirvana. So, in case you are already intrigued by the magic of the Sri Lankan cuisine, here is a list with top 10 dishes you definitely need to try when you are visiting the country.
Egg Hoppers
Egg hoppers are actually the traditional breakfast of Sri Lankan people and include a bow-shaped take on pancakes, which are actually very delicious all day long, so you can enjoy them for lunch, dinner and even as a snack. These pancakes are made from fermented rice flour, coconut milk, which is a very traditional ingredient for Sri Lankan cuisine, coconut water and just a sprinkling of sugar. Then the pancakes are cooked in a small, high-sided wok pan, which creates their distinctive and specific shape. Once the pancake is almost cooked, an egg is broken into it and finally served with spicy sambol.
Sambol
Speaking of sambol, let's explain what it actually stands for. Sambol is the classic Sri Lankan dish side, which is always very fresh, often very fiery and a chunky sauce made out of a finely grated coconut, dried red chillies, red onion, lime juice, a dash of Maldive fish, or curated tuna. Sambol could be prepared in alternative variants too, including the sweet-and-sour seeni sambol, when a caramelised onion is added to the mix and the sharp-and-spicy lunu miris, which is a flavourful mix of onions and red-hot chillies.
Vegetable Curry
Curry is an extremely popular dish in Asia and Sri Lanka does not make an exception, having its take on the flavoursome, fragrant seasonal dish. When it comes to the local curry receipt, the British influence is easy to spot out, because Sri Lankan curry features carrots, potatoes and pumpkin. However, the country offers more exotic alternatives to the traditional dish, featuring meaty-textured young jackfruit, long okra-like drumsticks, and bitter gourd. A true feast for vegans and vegetarians, indeed, but this vegetable dish is enjoyed even by true carnivores. Curry in Sri Lanka is always served with white, brown or red rice and is the most delicious, when you eat it with your fingers, as locals do.
Gotu Kola Kanda
Speaking of finger-licking good food, let's talk about Gotu Kola Kanda, or what locals called this part soup, part herbal porridge – the Sri Lankan answer to energy boosters. The dish is made out of leafy greens, featuring medicinal herb gotu kola and hathawariya, and, of course, rice that is also believed to have many health-improving properties, including boosting the immune system, adding digestion and reducing the bad cholesterol.
Crab
Seafood is very important part of the diet of the locals and when it comes to Sri Lanka and its love for seafood, crabs are under the spotlight. In fact, Sri Lankan crabs are popular all around the world for their sweet and delicious meat. Most of the local restaurants have their special receipt for preparing this succulent crustacean, which means that crab dishes in Sri Lanka come in a variety of sizes and variety of time-honoured receipts, including chilli crab, pepper crab, curry crab and more.
Kottu Roti
If you are on a hunt of the ultimate, most delicious Sri Lankan street food when Kottu Roti is exactly what you are looking for. An extra delicious stir-fry made out of leftovers, no matter how bad this description sounds like, this easy-breezy dish is nothing but very delicious. What you can expect from your Kottu Roti is a finely sliced roti flatbread mixed with meat or vegetables, garlic and spices on a large iron skillet. Pol Roti is another variation of this delicious dish that features shaved coconut and is often consumed as a breakfast, perfectly accompanied by luna miras and dhal.
Dhal
Speaking of dhal, this is the name Sri Lankan people give to their lentil curry, which is consumed as a side dish, often three times a day. Why people enjoy this simple dish so much? Red lentils are cooked in coconut milk, which gives the milky and smooth texture of the dish, while onions, green chillies and other spices such as cinnamon, cumin, fenugreek and pandan leaves are added to the mix to provide the distinctive and unique flavour. It is made in a traditional clay pot and extra tasty.
Lamprais
Lamprais is a very traditional and unique Sri Lankan savoury delicacy dish, often served as a Sunday lunch. The influence of the Dutch Burghers is apparent in this dish while preparing it is a labour intensive, however very rewarding experience. Lamprais consists of frikkadels, as the Dutch-style meatballs are called, a three-meat curry infused with cinnamon and cardamom, and seeni sambol. All the above listed in mixed with rice and boiled in a spicy stock, then wrapped in a banana leaf parcel and slowly oven baked.
Sour Fish Curry
There are plenty of fish curry receipts in the Sri Lankan kitchen, but sour fish curry or ambul thiyal as the locals called it, is one of the best ones. The dish features cubes of firm fish (tuna is used most often) that are cooked in a blend of spices, including turmeric, black pepper, cinnamon, garlic, curry leaves. However, there is one more secret ingredient to this dish and this is dried goraka, which provides the dish with its distinctive sour taste.
Watalappan
Perhaps you are tired of reading about all these wonderful savoury dishes, so here is the dessert we have for last. Watalappan is one of the most popular sweet treats in Sri Lanka and it is saved for being served on special occasions, this is how good it is. Watalappan is a Malay-influenced dessert, which consists of egg custard with coconut milk, cardamom, nutmeg, dark kithul jaggery (palm sugar). Light, extra delicious and with a silky, yet crunchy texture, there is nothing more you could ever ask for from a dessert.