World's Cheesiest Cuisines – Part 2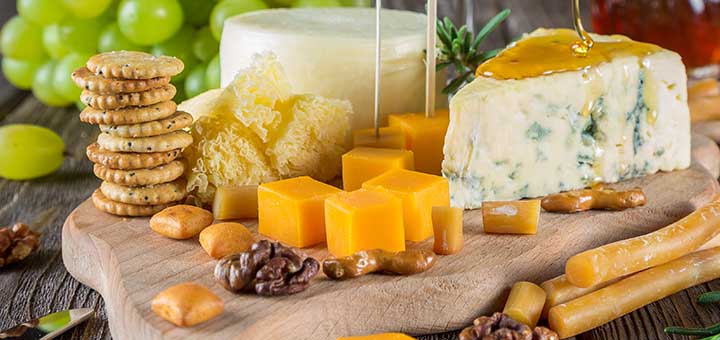 If you follow our blog you have probably already enjoyed part one of our cheese series and today we are continuing with a few more delicious ideas and some cheese inspiration for all those true lovers of the distinctive and intensive taste, strong and statement flavor and the unforgettable pleasure you get, when tasting the melting heart of a slice of French camembert or the salty deliciousness of the lavishly sprinkled Bulgarian cheese crumbs over freshly cut vegetables. Without further ado, here are a few more ideas on how to pamper your taste buds:
Bulgarian Shopska Salad
Probably one of the most famous Balkan dishes and definitely what makes foreigners visit Bulgaria over and over again (besides the unbeatable beauty and hospitality of the country) is the Shopska salad. Do not let the word salad to fool you because when it comes to food and eating in Bulgaria, there is quite a big chance to feel your tummy filled to the edge with the starters and salad only.
There is actually nothing we would like to change about this very simple, but amazing salad and its taste that cannot be replicated anywhere around the world, because of local tomatoes, cucumbers and onions have a very distinctive and amazing taste. The cherry on top is the most delicious in the world (at least in our own and humble opinion) Bulgarian white cheese that is generously sprinkled in large portions.
Indian Mattar Paneer
Indian cuisine is a real heaven for all those of you that are vegetarian or try to consume fewer dishes including meat and are in a search of more interesting, inspirational and delicious approaches to vegetarian cuisine. It makes a great sense that cheese in India will make it to the top delicious dishes and paneer, this simple, unaged farmhouse cheese is definitely something worth trying, when visiting the country. Mattar paneer is just one of the many dishes that include this soft, delicious and chewy cheese, this way complimented by a creamy tomato sauce with peas and a smoking hot stone-baked naan.
Cypriot Halloumi
When Cypriot people invented the amazing halloumi cheese back in time, we guess that they have had hardly ever expected this type of cheese to gain so much popularity and fans around the world. Truly a reason for island's pride and surprisingly making the biggest global export of cheese, halloumi is a briny and chewy cheese that is made of a blend of sheep's and goat's milk. If you are a fan of melting, warm cheese, halloumi will definitely do the trick for you.
Chicago Deep Dish Pizza
The deep dish pizza originating from Chicago is a pretty recent invention in the culinary world but managed to gain an enormous popularity and fan base due to its amazing flavours and richness. In fact, deep dish pizza is pretty far from the original pizza receipt, but nonetheless as amazingly delicious as the best Italian pizza. The specific taste and pleasure of this invention of the windy city come from the more like a pie bread crust filled with tomato sauce, pepperoni and what is the best – the sea of bubbling, melted, hot and heavenly mozzarella!
Cheesecake
You have to be a true fan of cheese to eat it as a dessert, but this is how the most of world's population feels about the dairy product because cheesecake is one of the most beloved and popular desserts! As easy to prepare and enjoy as a piece of cake, the focal point of in this cake dessert is the soft and fluffy cream cheese layered over a crunchy and amazing pillow of smashed cookies and flavoured with a really fascinating variety of different flavours, from fresh fruits and nuts to jams and what not.