World's Cheesiest Cuisines – Part 1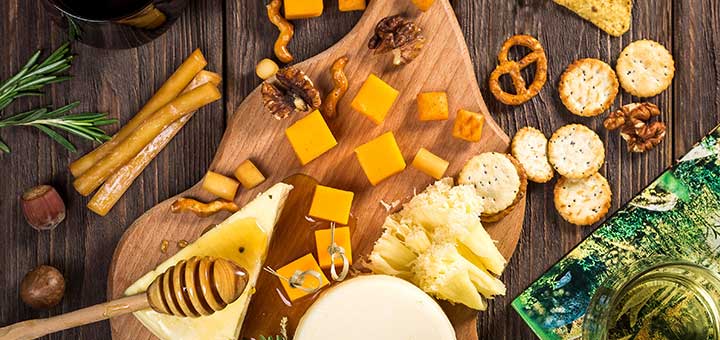 It might sound a bit cheesy, but cheese is what adds texture and flavour not only to a vast and amazing range of dishes and meals but also somehow manages to flavour life in general, because it brings so much pleasure for the taste buds… and for the soul, let's be real! Cheese around the world comes in a really vast and diverse variety of distinctive flavours, scents, intensities and textures and to make cheese fans even happier and satisfied with life, there are thousands if not millions of dishes around the world that features cheese as a focal point, or as a tasty and delicious complement to rest of the ingredients.
In case you are a real lover of cheese, a handful of Parmigiano dusted over your pasta simply won't make it. If you are seeking and coveting cheese in truly lavish proportions, here are world's most popular (and delicious) culinary art dishes that include cheese in all sorts and textures and help you enjoy its heavenly flavour. Be sure to loosen your belt and let's get started!
Swiss Fondue
Years and years ago Swiss fondue started as a way to use up leftover bread and cheese. Today Swiss fondue is not just a way to fill your tummy when there is nothing around the kitchen, but a true form of fine dining and something that millions of people on the planet enjoy over a glass of wine… or maybe two.
Any trip to Switzerland will somehow lead you to their famous fondue that basically consists of gruyere, garlic and lashings of white wine all mixed and warmed up in a communal dish called caquelon and enjoyed with cubed pieces of bread twirled in the mixture using long forks. In fact, Swiss fondue is so popular (and delicious) that it is no longer a limited pleasure for locals only and you can enjoy the original receipt or some tasteful alternatives to it in many restaurants around the world… or even make it by yourself at home.
Chinese Hot Yunnan Goat's Cheese
In general, goat's cheese has a very specific flavour and scent that is not everyone's cup of tea, but those who can handle it are truly enjoying this type of cheese. Chinese people definitely do and this is why you can try the famous Hot Yunnan goat's cheese dish in China exactly. This cheese comes with a meaty and dense texture and is usually served char-grilled in huge slices, often complimented for sugar for dipping or sizzled vegetables.
Romanian Cheese Polenta
In the raw wilderness of the mountains, hot and comfort food is a must so you can be able to survive in the fog-draped peaks, this is why the Romanian cheese polenta is such a popular and loved dish in this region of the world. Originally called mamaliga cu branza, the Romanian cheese polenta consists of a cornmeal porridge layered with rich and very delicious sheep's cheese.
Georgian Khachapuri
Speaking of fresh, hot and really comforting food, here is what you really need to try next time you are travelling to Tbilisi and in a search of delicious and filling breakfast, brunch or even lunch. Khachapuri is an oval-shaped loaf that is baked around a pool of melted cheese and topped with an egg, a real puffy and cheese piece of art for all those hungry bellies out there. The most commonly used cheese for this delicious snack is the local salty sulguni.
Mexican Queso Flameado
Mexicans are famous for their love for some good and delicious cheese and the Mexican queso flameado dish is yet another great example of this love. Go big or go home, because everything Mexican is spicy and jam-packed with strong and amazing flavours and their cheese is not an exception, this is why the queso flameado dish is offering your favourite cheese flavour with a spicy kick to it and here is how to enjoy it!
The finishing touch to Mexican cheese is a flambe, where tequila or rum is poured onto the cheese and then lit for intensifying and adding a kick to the classic cheese flavour. Then the cheese is scooped generously onto a tortilla, poured lavishly with a spicy sauce of chorizo, chillies and onions and enjoy like this is no one's business!
French Baked Camembert
From truck food to fine dining, you won't be surprised to find out that cheese can be enjoyed many ways. The French camembert is a typical example for some fine and luxurious dining and a real delicacy with its soft and heavenly texture and very distinctive taste. The best way to enjoy camembert actually does not involves specific ingredients, techniques and etiquette, but simply a bit of baking for making this cheese's heart melt with pleasure… and then melt your own heart with pleasure while you are enjoying the delightful cheesy strings with a piece of fresh baguette, drizzled with a bit of olive oil, or even with honey and chopped nuts on top.
Be sure to stay tuned for part two of these cheese series and explore even more amazing ways to enjoy cheese!