10 Best Places to Visit and Stay in Sydney this Summer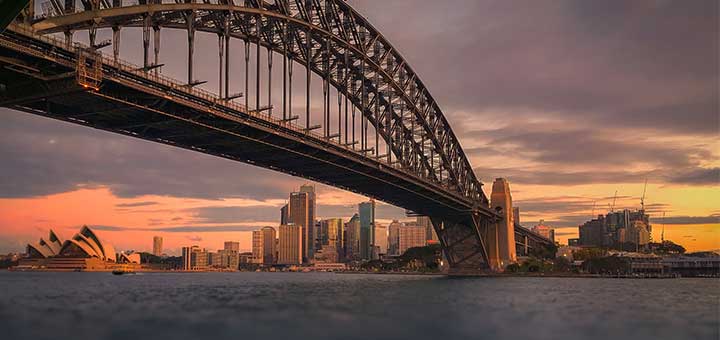 Summer is the most-awaited season for everyone around the globe. Just like all the seasons in the world, there's something in summer that makes it very distinct and special. People are able to do lots of things and activities they can't do during other seasons, as well as places they can't visit. Summer is indeed a season of freedom from many responsibilities and from being locked up inside the house. Sydney is one of the must-visit places in Australia during the summer. The season is really maximized if you go there because of several places in it where you can happily spend your summer alone or with your loved ones. Here are 10 places in Sydney where your summer will be worth-spending!
1. The Royal Botanic Garden
Summer is a special time for nature's revitalization and your rejuvenation with nature! Leaving Australia without catching the mesmerizing beauty and ambiance of the Royal Botanic Garden is a less one point to the total experience. You can get a free tour and learn the culture of Australians. Visiting the Royal Botanical Garden is one peaceful way to spend a day of summer in the land of the Aussies!
2. Centennial Park
Australia houses numerous beautiful, treasured parks wherein people can have fun and take time to relax and bond with loved ones. Sydney is among the spots blessed with unique and well-known parks on the continent. Centennial Park is one of the most popular of them all. This park is a vast, grass-filled site wherein you and your family can spend a day out of the house and away from gadgets! Summer is a really nice time to go out in the park, run, play catch, walk your dog, play tag and many more! The warmth of the season makes your bonding even more fun!
Centennial Park is one of the most cherished parks in Sydney, and its precious life is kept as it is preserved well and improved for people to appreciate it even more. The park provides many activities perfect for your summer getaway which doesn't always have to be somewhere very grand! In this park, you can go horseback riding, kite flying, cycling and bird watching too. Big events such as music festivals are also held here.  
3. Wet N' Wild
Want to grab some extreme water adventure? Wet N' Wild is a distinguished attraction in Sydney because it isn't just a view but a place of thrill and adventure! Waterslide attraction is this place's speciality. Wow-ing indeed are those long, colorful slides you'll see. They look scary if you imagine trying them, but they surely are exciting most especially for those who are into a lot of rush and screams!
Not all portions, however, are just for adults. There are areas meant for kids as well. Wet N' Wild is definitely a "yes!" for summertime madness! As the sun bursts into its rays, it's time for you to slide and bathe in cool water from the pool after you go down the slide!
4. Class Bento
Art is a very important element in this world – it is everywhere and in many things. Even during summer, it can't be forgotten! Actually, summer is the time when people can maximize more of their time to enhance themselves and improve on what they already know because spending time for your interest in art actually requires a lot of dedication and time.
Class Bento offers various workshops in many kinds of art. For visual arts, you can learn how to paint, draw, use the camera for photography, do calligraphy and use watercolour. For performing arts, you can be taught or enhanced in playing music, dancing, singing and even juggling! Wellbeing is also taken care of as the workshops include yoga and games. The art of food and drink making also is even more appreciated and recognized. Under craft, you can learn about origami, pottery, sewing, screen printing, bookbinding and many more. Lastly, they also teach different languages namely Spanish, French and Japanese. They provide the learning, the experience and the application together with speakers and educators who are experts in the field.
Summer is the perfect time for you, your family and your friends to spend discovering and growing together! Workshops are usually done during this season since it's when people's schedules are most likely easy to adjust.
5. Freshwater Beach
Countless beaches can be seen in Australia, and many of the best ones are in Sydney. Freshwater Beach is one of the names you'll most often hear or read about if you search "beaches located in Australia (Sydney)". It is a famous tourist spot in the area.
There are several activities which can be done here, and kids will surely love the place because it offers entertainment exclusive for them! There is a mascot, daytime activities, giant inflatable pool and hosts to make the time more fun and engaging. For adults also, surfing should be on your bucket lists! Freshwater Beach is a historical place of Australia's surfing industry, thus, it's surely a right choice to learn and try surfing above its waves and swimming in its indeed fresh water!  
6. Carriageworks Farmers Market
Summer is a really nice season of growing vegetables and plants since the sunlight is even richer and the weather is warm. Markets are very busy this time of the year. One of them is the Carriagework Farmers Market. This notable market offers products from across New South Wales harvested by artisan producers and farmers. Biodynamic and organic foods belong to them. Products are surely freshly reaped, coming from several high-quality producers.
You can go here to get yourselves some fresh leaves, veggies and fruits! Pleasant and beautiful flowers can also be bought! You'll be amazed at the number of flowers you haven't seen and heard of before. It's a great time to visit the market during summer time for the convenience of both you and the products too!
7. Wildlife Sydney Zoo
One of the nicest places to go to during summer is where animals can be seen! It's not every day that you get to see lions, big birds, horses and other animals which cannot be made pets at home. Summer is the right time to go to the zoos and animal sanctuaries because if it's raining or snowing, the condition of the animals wouldn't be very suitable for the outdoors.
Wildlife Sydney Zoo is formerly known as the Sydney Wildlife World. Animals inside include koalas, cassowaries, Tasmanian devils and a crocodile. Some of its special offers is a breakfast with the koalas because it is said that around 7 in the morning, koalas are most active. It's really nice to go here with your family and kids because everyone will surely enjoy interacting and appreciating those buddies from the wild.
8. Three Sisters Walk
Yup, it's warm and sunny, and it's a fine time to go up mountains! Three Sisters Walk is a good choice for anyone to go to! It's not difficult to reach its peak. Reviews say it's easy to accomplish, but the view from the top is very captivating, not easy to want to unsee! It's a must-try, especially for those who haven't tried hiking, mountain climbing and anything like it before! As you take your steps up, Australian birds might make sounds for you to hear!
Summer's a really perfect time to travel up mountains because aside from it's easier than when it's rainy, it will also allow you to see the magnificent views clearly as the sunlight kisses the tip of every view you see.
9. Various Hotels In Sydney
Many hotels to choose from, but you gotta choose what's worth it. Hotels in Sydney include Travelodge and Sydney Boutique Hotel. Summertime's going to be a well time for people like you to go out of the house and stroll or work on important stuff. However, if you want and need rest and some beautiful views also without going too far or going all-out outdoors, then, stay in a hotel!
Enjoy convenient and stress-free rest, and indulge in all their relaxing and excellent amenities! If you want to go swimming in a pool or a jacuzzi, you don't have to go out of the hotel anymore because hotels do have their own swimming areas and other bathing facilities which will veer you away from your house's comfort room. If you're in a hotel this summer, you're in that one-stop-shop of all the rest, relaxation and fun you need!
10. Sydney Harbour Cruises
Make your Sydney meals one for the books! Instead of just dining in a fancy restaurant, consider booking a cruise in Sydney Harbour. There are lots of companies offering such luxurious dining with amazing views and incomparable ambience. Magistic Cruises and Captain Cook Cruises are among those names. Options include the Lunch Cruise, Dinner Cruise, and they also cater to special events. Together with a buffet lunch/dinner cruise, you will also get the heartwarming chance to witness the spectacular views of the famous Sydney Opera House & the astonishing Harbour Bridge.
Eating and sightseeing, together with cruising, is even much more exciting and safe during summer! You'll, even more, enjoy the sun as you clearly witness the eye-catching views around Sydney Harbour and the refreshing move of the waters! Additionally, you'll also be able to take wonderful photos inside the cruise ship as you take advantage of the natural light coming from the summer sun.    
The list above is a bundle of many fun, relaxing and amazing things to do and places to visit in Sydney, so you can get one of every good thing! There are several spots worth paying a visit and worth staying in, and the above-mentioned ones are just some of the most well-known and best choices you should visit in Sydney.
---
Author Bio:
Nicole Ann Pore is a daytime writer for Holiday Inn Parramatta, a five-star hotel in Parramatta, New South Wales offering a worthwhile stay and a close experience of the historical richness of Australia. Nicole writes about travel, accommodation and everything else related to it. For her, the beauty of this world is astounding and worth-sharing, and traveling is one of the best ways to appreciate it. Nicole graduated Cum Laude from De La Salle University Manila, Philippines with a Bachelor's Degree in Communication Arts.