7 Surprising Things to do in the UK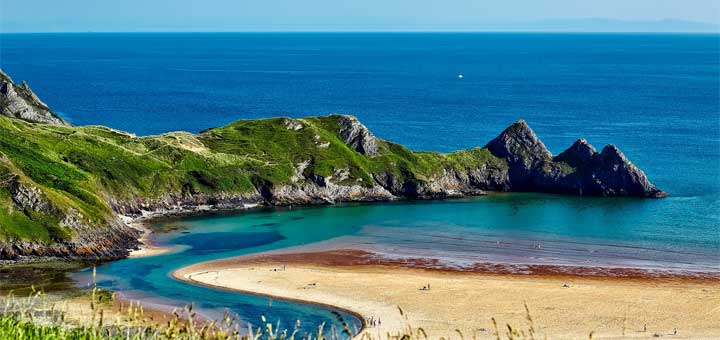 The United Kingdom with all its adjacent regions and lands is a popular travel destination for thousands and thousands of tourists every year, all year round because this region of the world is wonderful and welcoming in all seasons. No matter if you are local to the region and you want to plan a short weekend getaway, you are organizing an extended vacation with your family or a romantic holiday in a distinctively British cottage. Or maybe you are a backpacker looking for some extra inspiration and a new window of adventure opportunities. We want to show you another side of tourism in the UK… or actually 7 different sides in total or as we want to present them today to you – 7 surprising things you didn't know you can do in the UK!
Of course, UK is a home of a dozen of popular and wonderful tourism and sightseeing highlights. The majority of them housed in the capital London including the Buckingham Palace with the iconic guards in red, the infamous Brighton Beach, Westminster Abbey with its old-world charm, popular shopping spots and impressive high streets, entertaining and fun activities for youngsters and older people such as the Madame Tussauds Museum, London Eye, Hyde Park, The British Museum and so much more. But even above and beyond that you can find an unexpected variety of wonderful activities and adventures you can enjoy and fascinating places you can visit that are often not mentioned in the tourist guidebooks. From the great outdoors, through adventures for extreme sports fans to the scenic landscapes that look like right out of Tolkien's 'Lord of the rings', here are 7 more unique and exciting ways to explore the United Kingdom:
Scotland's Common Ridings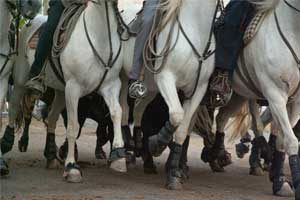 Visit the Scottish border towns Hawick, Selkirk, Jedburgh and Lauder for an unforgettable experience of the Scotland's Common Ridings that are nothing like your average horse riding, but actually an exciting mix of Spanish-inspired fiesta celebration and the drinking routine of Octoberfest. When the sun starts rising up each morning of the ridings at Dayspring, there is a special signal for everyone in town, waking up the sleepy locals and tourists with an incredibly noisy symphony of drum and fife band marches around the streets. Here is when the little towns come to live and start getting lively, dynamic and buzzing with all people leaving their houses and all tourists leaving their accommodations and hotel rooms to gather at the local pub.
The local pubs are wide awake since 6 am and stocked up with the traditional breakfast, the top of fine dining in this region of the world, the so called 'Curds and Cream' that is a password for a cocktail of rum and milk. A pretty quirky morning routine, indeed, but definitely a much necessary one, considering that this lifeblood cocktail is much needed for stocking with energy over two hundred of horse riders that will later gallop around the ancient lanes and narrow streets of the little towns. When the sun starts setting down, early in the evening the horse riders hit back to the town's pubs right before the fife band strikes up again a few hours after midnight to celebrate the new day.
Explore Middle Earth in Northern Ireland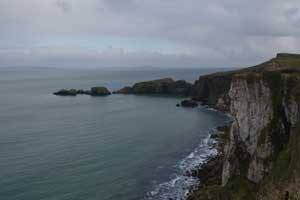 In Northern Ireland, where green monumental mountains rise above like ancient Titans above the sandy strand of Dundrum Bay, surrounded by a number of awe-inspiring hills, peaks and landscapes, you will find yourself right in the heart of the Middle Earth, or a scene that looks more like the border of the planet. A region of the world that is quite overlooked, but no less exciting and beautiful than many touristic highlights around the world that gather and attract millions of tourists every year, you will find the seaside town of Newcastle surrounded by the Country Down's Mourne a quite spectacular land that can be reached on foot only and offers a great adventure to all lovers of the great outdoors. With no interior roads available on this piece of land on earth, you can feel truly relaxed – emotionally and physically.
Mountain Bike in Wales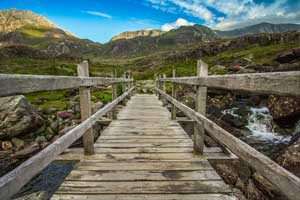 With every next turn, you take with your bike and every new mountain fold you pass while hitting the roads of Wales you will find out that this region of the world offers an incredibly picturesque, scenic and atmospheric landscapes that wait for you to explore them. Although the modest mountains of Wales cannot compare to the awe-inspiring titans of the Alps or the Rockies, when it comes to mountain biking, the ragged and exciting roads and paths of the Welsh Snowdonia and the moorlands of the Cambrian Mountains will definitely win over the hearts of millions of extreme and mountain biking lovers around the world. Being one of the world's top destinations for mountain biking lovers, Wales offers equally adventure and natural beauty with luscious and vibrant green valleys all around. From rank beginner to true professionals, every mountain biking lover will enjoy the Welsh setting and perfect organization with a number of purpose-built mountain-biking centres around the country.
The Most Mysterious Beach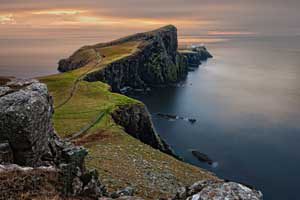 In case you are a fan of another type of adventure than extreme sports, we invite you to visit one of the world's most mysterious and enigmatic beaches that is conveniently located in Scotland. Cape Wrath is the name of this piece of world's land that makes you feel like you are staying right at the border of the world, a place, where earth, water and air are meeting and combining together to testify and celebrate nature's power and offer an emotional experience for everyone. Nature in its harshest, most powerful and awe-inspiring state can be witnessed here in the most northwesterly corner of Scotland, a land discovered and explored by Vikings. The Cape Wrath's most spectacular and fascinating stretch of coastline is called Sandwood Bay and it is considered to be Britain's most remote and stunning beach that impressed with such austere and surprising elegance. It is surprising that this piece of land is still not sunken deep into the Atlantic waters under the enormous weight of thousands of myths and fairy tales about pirates, mermaids, grumbling sailors and buried in the sand galleons.
A Heavenly Piece in Cornwall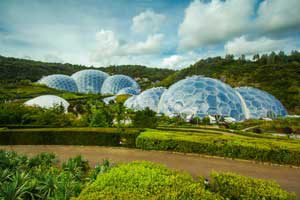 In general, United Kingdom is known for housing amazing nature's heritage and impressive ecological harmony, but there is one place in Cornwall that makes even the rest of the British lands to crouch ashamed in the remote corner. Everything about Cornwall's Eden Project is far from average and conventional and closer than ever to the mythical Garden of Eden. Creating a unique ecosystem that houses in a perfect harmony the extreme diversity of world's plant life and then covering it with alien-like domes wedged into the hillside of a crater, The Cornwall's Eden Project is definitely a point of everyone's bucket list, being the largest conservatory in the whole entire world!
Highland Games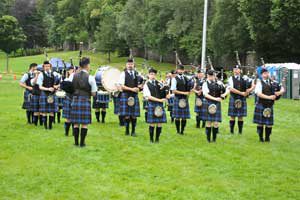 Let's go back to Scotland to find out more about the infamous Highland Games that gather a crowd of more than 20,000 people each year! Besides being a quirky and unique attraction for adults with a spectacular country dancing scene and the pretty authentic setting with tractors, dog trials, fudge stalls and more cute animals, this quirky annual tradition is, hands down, a real piece of Heaven for children that are guaranteed to have a lot of fun and learn and experience something new and exciting!
Bonfire Night in Lewes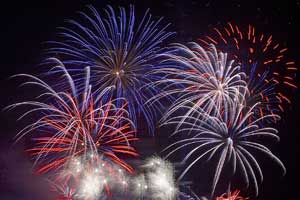 Bonfire Night is celebrated in the first week of November in the UK and although the tradition is considered to be very dangerous and irresponsible to many, you can't take Bonfire Night from the Britons as well as you cannot deny the fact that this is a pretty exciting, impressive and really beautiful scene to attend to! The whole conception of the Bonfire Night festival consists of hundreds of human effigies burned in back gardens of houses all across the country and millions of fireworks, while all this is done in celebration of Guy Fawkes and his attempt to blow up the Houses of Parliament in 1605. Well, we guess that Britons are definitely not that humble and well-mannered as we thought, right, we can easily notice the rebellion character here! While the whole land of the UK will light up and burst into thousands of colours and sparkles for one whole night, the humble and quiet town of Lewes goes to the extremes of the festival and definitely worth visiting. Still, haven't booked your ticket for November… well, what are you waiting for?