Georgia – a Travel Destination for Adventurers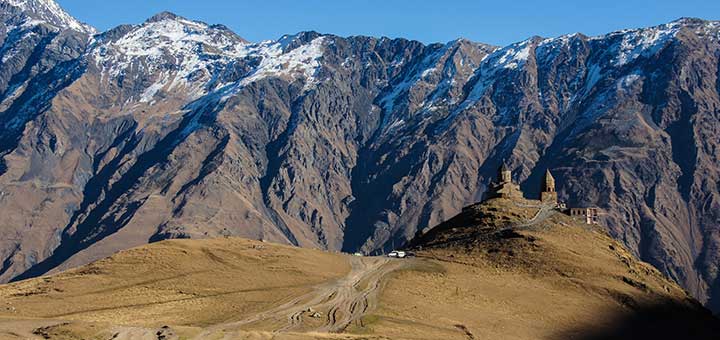 Nestled comfortably between the endless lands of Russia, oriental Turkey, and the small and diverse Armenia and Azerbaijan, Georgia is not exactly the most popular travel destination, no matter where your starting point is. Despite the fact that Georgia is often overlooked as an exciting travel destination offering a lot of adventures, it is still attracting tourists from neighbouring countries, who are familiar with its quirky yet unique and distinctive culture, nature and history. However, today our goal is to reveal the amazing beauty and unique atmosphere of the part European, part Asian country to travellers from the western part of the world.
Let's start out the journey with the quirky yet exciting capital Tbilisi, which could be pretty an overwhelming experience for first-time visitors, who will then soon find out what is really that special in Georgia, showcased by the authentic and exciting atmosphere of the capital. Rich in history and unique architecture, including some pretty controversial new buildings to the skyline, Tbilisi is definitely a good starting point for meeting Georgia and discovering its authentic culture as a starting point.
However, Georgia is not only its capital and what lies beyond the city is really exciting. With 9 national parks, gathering the amazing beauty of the local nature, many more national reserves and "protected landscapes", a very big part of the country's scenery remains untouched and definitely not overcrowded with tourists, which is a big plus indeed.
We guess that by now you are already planning your trip to the country. In fact, there is no better time to go, considering the big number of airline connections that appeared in the last years and the great number of unique places to stay in and enjoy your experience that was built recently. So here are 6 more reasons why to visit Georgia and why you are going to enjoy it if you are an adventurer in your heart.
You can hike
If you are a fan of hiking, your enthusiasm will be ideally rewarded in Georgia, because this is one of the not many places in the world, where you can hike to a glacier, or even a small and enigmatic church above the clouds. Caucasus mountain is not simply popular worldwide and a great adventure for hikers, but also known for the unique and breath-taking scenery and views if offers around every corner you take up to the top. In fact, the Georgian government has invested a huge amount of money into improving the seven main rails, which were innovated just less than two years ago and an extensive network of hiking routes that are linking to the many national parks of the country.
So as you can guess, Caucasus mountain is certainly a paradise for hiking enthusiasts. In case you are wondering which path to take, we highly recommend the 58km Mestia-to-Ushguli route, which will take you along some great areas of the country, including the remote, UNESCO-listed Upper Svaneti region and its unique tower houses former fortresses. Do not miss to catch sight of the nearby Chalaadi Glacier. Meanwhile, the Mtskheta-Mtihani route will lead you to the 14-century-old Gergeti Trinity Church that is located on a hilltop at 2170m, sitting above the clouds.
Alternative Ski Destination
Forget about the extra popular and always overcrowded European ski resorts, because Georgia is offering the same, if not better ski experience and you are guaranteed to enjoy it a lot! In fact, the country is a home to 6 ski resorts and one of the best one of them is Gudauri, which is located 120km north of Tbilisi. With more than 50km of well-groomed ski pistes and a fluffy white snow almost all year round, but especially in January. If you are looking for even more exciting ski experience, make sure to try heli-skiing, night skiing and even ski-touring.
White-water Rafting on a City Break
As we have mentioned, Georgia is a great destination for adventurers and the many opportunities the country offers for kayaking and rafting are simply a small addition to the whole mix. So whenever you are an amateur or a pro, make sure to try your hand at some exciting activities. Not even a whole hour away from Tbilisi and you are going to discover the beautiful areas where rivers Mtkvari and Aragvi meet, which is a perfect place for white-water rafting through a breath-taking valley.
Paragliding
Paragliding is something that can spices up your life and experience in Georgia all year round. So if you are looking for some amazingly exciting ways to make your heart skip a beat, paragliding is certainly a good alternative, while you are in Georgia. Make sure to try a tandem flight with a qualified and experienced instructor and let the views over the villages, forests and people take your breath.
Meet Nomads and Be Their Guest
There are definitely not many places in the world, where you can experience horse-riding in the mountain and meet nomads, who open up their homes for guests. The long-distance horse trails in Tusheti National Park will lead you as high as 3000m high, where you will be able to explore old shepherds' paths and narrow mountain passes and enjoy some of the country's most remote villages along the way. In case you want to be a guest of a semi-nomad shepherd's Tush family, book an organised tour.
Enjoy Local Georgian Cuisine
Make sure to visit Georgia and you will soon find out that it is simply impossible to stay hungry here and not enjoy the local cuisine. In Georgia dishes are very cheap, very fresh, very unique and very delicious and will give you a lot of energy for some exciting adventures waiting ahead. Locals love to share food and are very hospitable and friendly, while the traditional Georgian lunch/dinner table is covered with many meze-style spreads, Georgian salads, khachapuri cheese pastries, spiced walnut paste filling an aubergine or peppers, pkhali balls from mixed nuts and herbs, beetroot and other vegetables.