Your Dream Escape – French Polynesia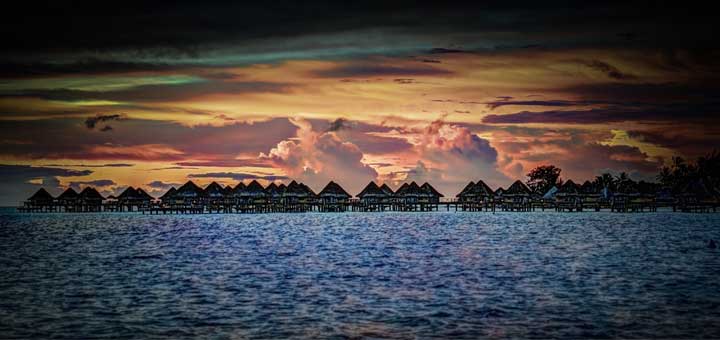 For many of you French Polynesia is a place you know nothing about and you have never considered going on a holiday there, but this is about to change, because today we want to introduce you this piece of Heaven on Earth and inspire you for your next journey, because French Polynesia is definitely worth it, being a real dream South Pacific escape from everyone. Although not the most popular destination and not something your travel agent will start inspiring you to visit at first, be sure to learn more about this magical land and all its advantages with our help!
If you are a first time visitor, or still considering the idea of a bit different and unusual holiday destination, there is a risk that you may find French Polynesia a bit too overwhelming at first. In fact, French Polynesia is stretching in heavenly lands across the South Pacific in its turquoise and exotic waters, coming in the size of the European continent and definitely inspired by the culture of the oldest continent as the name of the country suggests. Technically, the group of islands is an overseas collectivity of France, as you may guess by the name, and the French culture, style and elegance are heavily influencing this place, well-mixed and combined with a touch of exotic island vibe and laid back atmosphere.
You May Also Like
So if you are dreaming of a holiday destination in this cold weather that is considered to be a true slice of Eden Garden, then French Polynesia is definitely not going to disappoint you. Just wait to visit the group of islands and you will be happy with the rewarding experience you are about to enjoy! Because the group of islands is offering everything you would like from an exotic island escape – here you have the idyllic and endless coast line with beaches with sparkling sand and even more sparkling clear water of the ocean, postcard-worthy sunsets, abundant marine life that just waits for you to explore it and so much more for you to discover and enjoy!
The most popular travel destination islands in the region of French Polynesia are Tahiti, Moorea, Bora Bora, Raiatea and Taha'a that attract thousands of tourists every year and there are definitely many reasons why, but today we are mentioning only the highlights of such a dreamy holiday destination in a coconut shell!
Tahiti
Tahiti Island is not only the largest and most populated out of this heavenly group of islands under the name of French Polynesia, but also most probably the most popular travel destination for tourists ranging from all groups and aspects of life. For most of the visitors, Tahiti is the base they use as a starting point for later on discovering the beauty and mesmerizing power of French Polynesia in a whole, but Tahiti can also be considered a summary of the whole vibe and spirit of the archipelago. The international airport on Tahiti is called Faa'a and all the major destinations can be easily reached from the airport.
The capital city of Papeete is located on Tahiti Island and is the only city that can be considered metropolis in this region of the world. Lively, buzzy and rarely sleeping, Papeete is reflecting the friendly attitude of the locals and offering you a real island adventure with all its unique pearl shops, noisy food trucks that are called roulottes right here and offer fresh and amazingly delicious local treats and occasional traffic jams. However, the city of Papeete is not the only place worth visiting here in Tahiti and if you are hungry for more adventures and seeking to explore this island's in a whole, then do not miss to visit the rugged and, as it seems, endless coastline, all the historical sites (French Polynesia has a lot of them in general) and the breath-taking mountainous interior.
Moorea
In case that at some point you need to change the backdrop and explore a new place (although it is hard to believe that Tahiti can ever get boring and stop offering numerous adventures), only half an hour away from Papeete you can visit the idyllic paradise island of Moorea, a charming land of breath-taking nature and ever so attractive culture and lifestyle. The island of Moorea is offering a great opportunity for all those adventurers that love to hike with its mountainous interior and eye-catching views. If you want to feel the relaxing and laid back island-inspired atmosphere, then Moorea Island is the perfect place for you, because here it is more likely to encounter chickens than humans!
Bora Bora
The island of Bora Bora is another pretty familiar and popular destination among tourists and definitely a great honeymoon destination with its romantic and pretty distinctive exotic island atmosphere and vibe and the endless beaches with white and fine sand. However, Bora Bora is not your typical island paradise, because it offers a natural backdrop so picturesque and breath-taking that is hard to forget!
While it's natural lagoon is surrounded by the majestic Mount Otemanu, you can enjoy the perfect day on the beach, swimming in turquoise waters that are packed with colourful fishes. Bora Bora is also the island that offers a 5-star holiday with all the amazing and luxurious resorts that are located on the island and the infamous overwater bungalows you can see on postcards and in dreamy Instagram accounts.
Raiatea and Taha'a
While you are at the Bora Bora's beach and enjoying your life, do not forget to look over the horizon not only for the pleasure of watching one of the most breathtaking sunsets in the world but also because you can see the islands of Raiatea and Taha'a from here. Although a lot less popular, both Raiatea and Taha'a are offering the distinctive exotic island experience and dreamy escape with endless beaches with clear waters and relaxing break from the everyday life. Both the islands are highly prized by yachters and sailors, but if you are considering visiting them with your family, your partner or with only a backpack hanging from your shoulder we guarantee that you are going to enjoy them too!