10 Great Ideas Inspiring You To Visit Thailand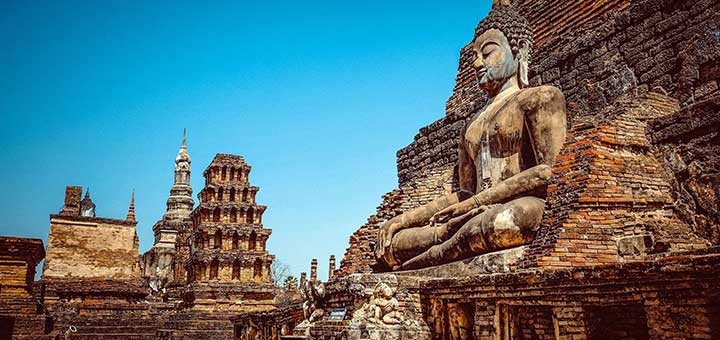 Thailand is a favourite travel destination for millions of people around the world. On the other hand, almost everyone that has never been there is dreaming of visiting the country. There is no wonder why love is such a beloved piece of the Earth. The archipelago country harmonizes everything wonderful this world has to offer – it is exotic, very hospitable, locals are friendly, you can enjoy the perfect relaxation, or have a lot of fun and dance the warm nights away, beaches are almost way too beautiful to be real, nature is one-of-a-kind, food is above and beyond any expectations, the choice of budget-friendly and luxurious accommodations are everything you need, people here know how to help you unwind and have the best time, culture is interesting and exciting. In fact, Thailand is way more than simply an exotic holiday destination because it is a country with a lot of cultures, history, and traditions.
However, Thailand is still one of the most exotic and special pieces of land under the sun. We are sure that no matter how long your holiday is, the days will never be enough for you to explore everything wonderful this country has to offer and enjoy it. Even just a handful of days will help you understand, appreciate, enjoy, and make your dream of coming back to the heavenly beaches, scenic islands, the many cultural landmarks, meeting the interesting local cultures. Thailand is one of these countries that simply mark your soul and mind forever. Thailand is the best when it comes to leaving a flavour of pleasure and joy lingering within for the rest of the time. It might be a bit too distant and far away but every single minute of the long flight worth it! In order to help you appreciate Thailand even more and inspire you to choose the country for your next summer holiday, here are just 10 of the millions of reasons why to visit the country!
Thailand is a budget-friendly summer holiday option
In fact, the country is included in the top 10 list of the cheapest tourism destinations in the world in 2013 and not a lot has changed since then. Accommodation in Thailand is often considered as super budget-friendly. The same applies to local public transport as well as the inside flights of the country. Services and food won't break the bank too and fit the budget of every tourist. The only a bit too expensive thing part of your Thailand vacation is the flight ticket to the country, but worry not, because travel agencies all around the world often offer special offers and discounts for this breathtakingly beautiful destination.
Heavenly delicious and varied food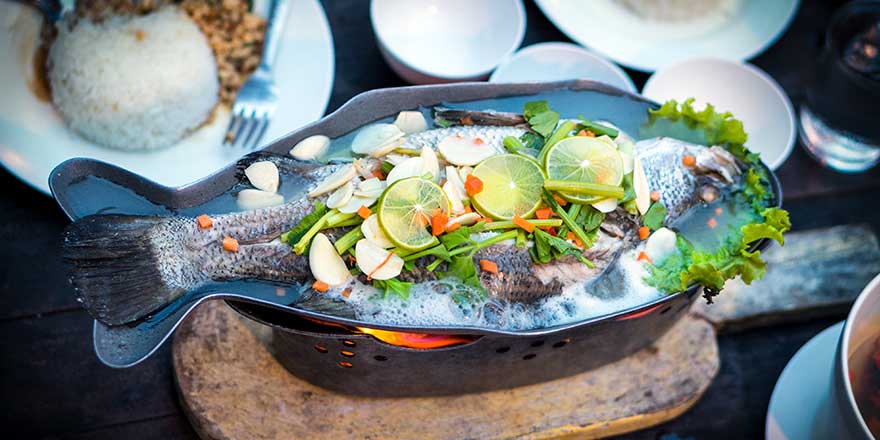 There is one thing that is absolutely sure – you won't feel hungry when in Thailand. There is something extra delicious and extra fresh served in the country that will make even the pickiest eater's mouth water! Restaurants from different classes, local fast food places, street vendors, even boats in the water – everyone here offers an impressive variety of extra delicious dishes with an irresistible scent and exotic spices. Besides the most delicious fried chicken in the world, do not miss to try out the delicious local soups, rice and spicy dishes, fish, the traditional desserts, exotic freshly drained fruit juices.
The always pleasant weather
Thailand's climate is the typical tropical one – there is a lot of sunlight and a lot of humidity. The local climate consists of three seasons – the chilly one (from November to February), the hot one (from March to May), and the rainy one (from June to October). However, no matter what time of the year you pick for your holiday, you will be able to enjoy a lot of sunbathing and amazing time spent on the beach in Thailand all year round. Especially if you decide to stay in the central and southern part of the country.
Paradise beaches and exotic islands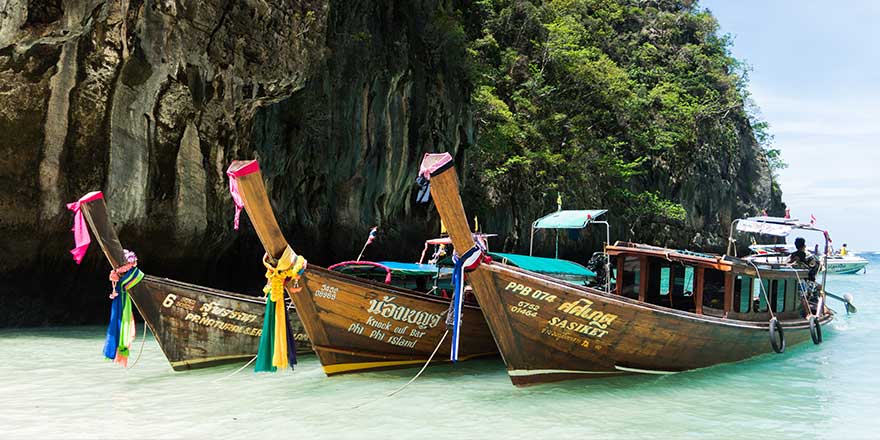 Just imagine the endless beaches with the finest white sand and the coconut palm trees. This breathtaking setting is a magnet for people from around the world, indeed. Thailand is blessed with some of the most beautiful beaches in the world. The water is always warm and crystal clear, capturing all shades of blue and turquoise, full of marine life. You can go where the majority tourists go on the crowded and buzzing beaches or find your own and quiet piece of the heavenly coast to enjoy some alone time. The nights are reserved for one of the many atmospheric beachfront clubs and bars.
Diving
With its 2000 kilometres-long coastline, deep waters full of marine life, underwater parks, and unexplored islands, Thailand is definitely one of the most beloved diving destinations. Even if you are not a professional diver, your curiosity will be spoilt. Most of the beach towns offer great budget-friendly diving lessons and a variety of sea adventures.
Nature wonders and Buddhist temples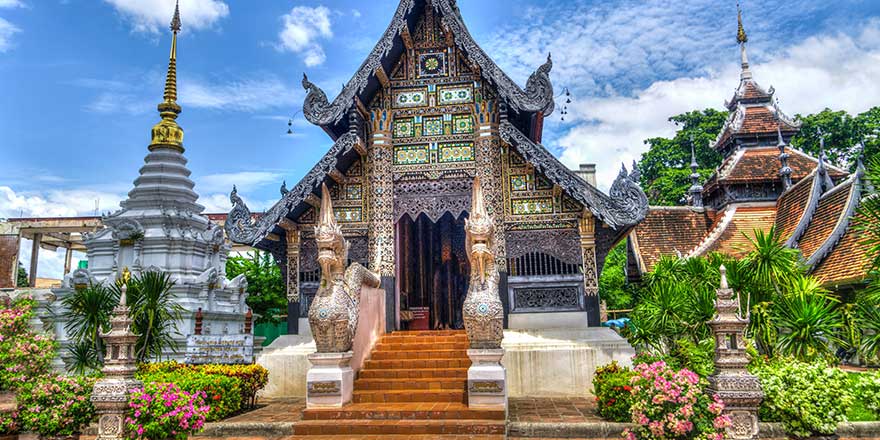 Over 10% of the lands of the country are still green and not civilized with a bunch of awe-inspiring nature parks. This makes every piece of land outside the big city a perfect place for nature walks, hiking, watching wild animals and birds, swimming in the waterfalls, all kinds of outdoor adventures. Along with that you can feel and appreciate the impact of Buddhism almost everywhere where you will find beautiful temples (pagodas), castles, and holy symbols (some of them as old as the world is).
Shopping
In Thailand, you can find practically everything you look for and all the things you even don't look for. The country is a home to cutting-edge modern malls and other shopping destinations, tiny shops for souvenirs and handmade odds and ends, night, day, and weekend markets, street vendors. A big bonus is that almost everything is very budget-friendly.
Bangkok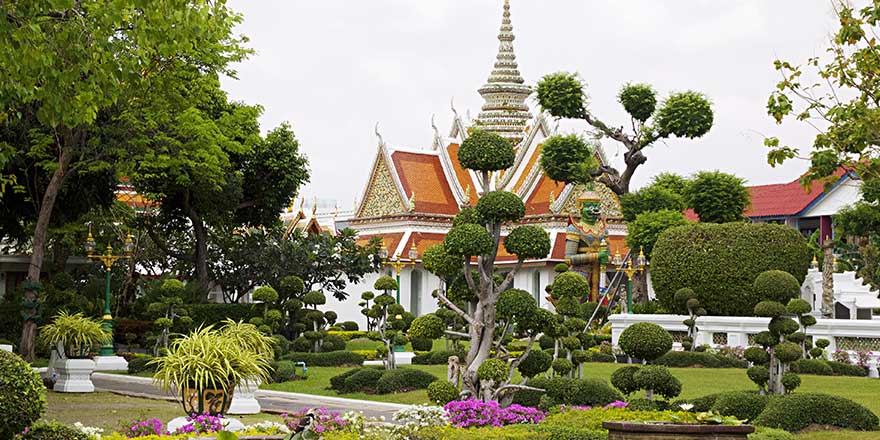 The dynamic capital of Thailand Bangkok does not have to be neglected too! Just a few hour-long walks throughout this amazing city will make you fall in love with all its positives and negatives. The city is a home to perfectly organized infrastructure, the extra modern and amazing "sky train", water taxis, the iconic local nightlife, opulent cultural heritage, and a whole lot of adventures you cannot experience anywhere else in the world.
A portal to Asia
Thailand is the perfect location to start your journey not only to the surrounding islands but also to other Asian destinations such a Cambodia, Vietnam, Laos, Myanmar, Malaysia, etc. One big bonus is that the local airfares are significantly lower than purchasing flight tickets from home.
Multicultural setting and friendly locals
There is no wonder that Thailand is called "The Land of Smiles". The locals are always very positive and friendly, hospitable, always ready to make you part of the whole big family, always ready to show you all the local and very interesting traditions and cultural specifics.