Top 20 Strangest Places in the World – Part 1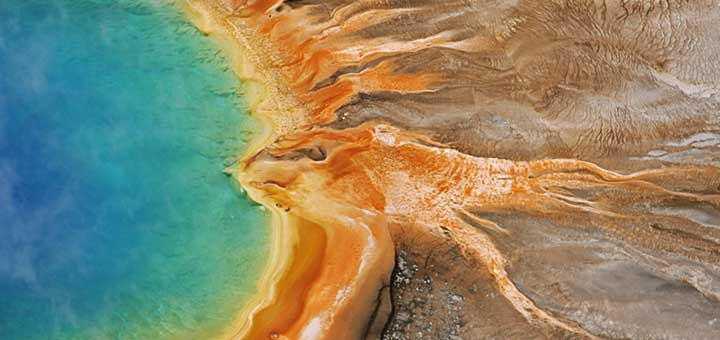 We are lucky people to live in the world we live, full of so many extraordinary, beautiful, special, unique, quirky and exciting places that we could visit just in a few hours flight or ride. It is amazing to know that a new adventure awaits around the corner and that you can dive into a completely new world just a few hours away your home. However, some people are more adventurous than others and they are completely into exploring what not many people before they have explored.
Rare places, distant lands and completely strange places – it is all a special type of tourism that is saved for the most curious out of you. Finally, if you are looking for some unusual and exciting new ideas and inspiration about the world's weirdest places and you are not much into conventional and popular holiday destinations, we can ensure you that this article is for you especially. So if you are into some new adventures, or you are simply curious about what is hiding across the street, here is a short and interesting guide for you to the top 20 weirdest and strangest places in the world.
The Nasca Lines, Peru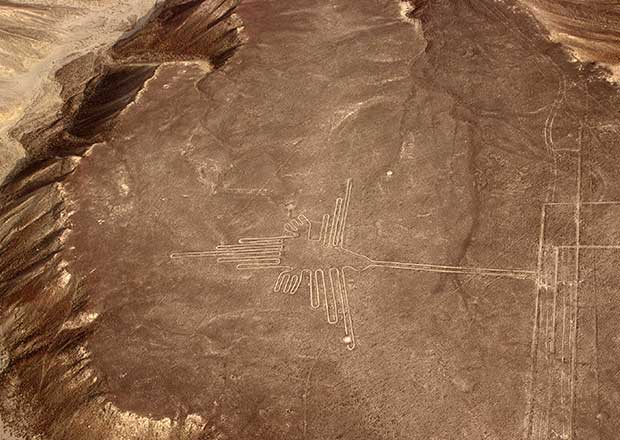 This phenomenon has been very popular and attracting millions of people from all around the world with its enigmatic and mystic appearance for many years already, and if you haven't visited it by now, we highly recommend you considering your journey to Peru. This one is a man-made spectacular place to visit and one of the world's biggest mysteries with the animal figures and geometric shapes carved in the ground by the ancient Nasca people. The place and the figures are visible only from the air or a metal viewing tower beside the highway.
The Bermuda Triangle, North Atlantic Ocean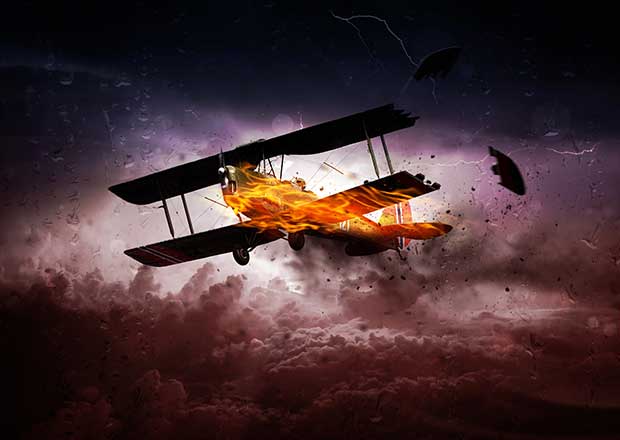 The Bermuda Triangle is so popular and so mysterious with all the theories and legends surrounding the region that it has turned into a synonym of mystery and strangeness. Also popular as the Devil's Triangle, the area is spread roughly between Bermuda, Florida and Puerto Rico and a source of a dozen, if not hundreds of strange stories and experiences with no logical explanation. If you are brave enough, you would take a flight over the area. Although the existence of such area is not official, there are many theories about unusual magnetic readings and disappeared ships, airplanes and people associated with the area.
The Giant's Causeway, Northern Ireland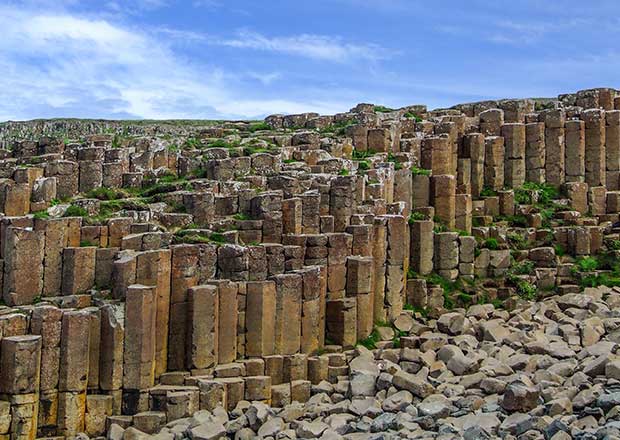 This place truly looks quirky and very beautiful in a magical way, like it has just dropped out of the fairy tale storybook. Millions of years ago, after a volcano eruption, the molten basalt that came from the volcano solidified and created the strange, but magnificent cracks that we can enjoy today. The Giant's Causeway is a World Heritage Site with almost 40,000 polygon columns that are hard to believe they are not man-made – all the columns are so geometrically perfect that the local legend tells they are made by ancient giants, hence the name of the place.
Lake Hillier, Western Australia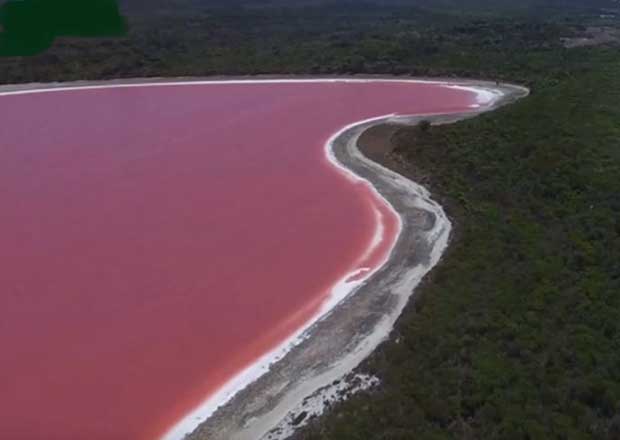 It is hard to miss Lake Hillier in Western Australia because the wonderful photos of this magnificent, bright pink lake are all over the Internet. If you have wondered are these pink waters photoshopped or real and where you can find and enjoy them, here is your answer. This remarkable and unique lake was discovered in the early 1800s. It keeps it bright pink colour all year round and takes the breath away of thousands of tourists and photography enthusiasts around the world.
Badab-e-Surt, Iran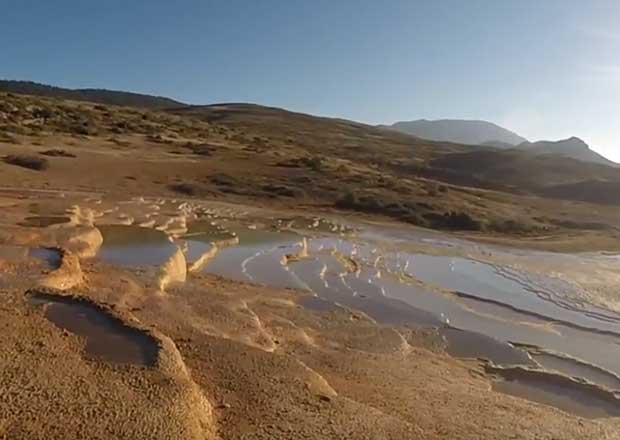 Here is one more natural phenomenon that will take your breath away and leave a remarkable memory for the rest of your life. Reminding us a lot of Pamukkale, but way more treasure, splendid-style, the bright and gold-shining travertine terraces of Bedab-e-Surt are located in northern Iran and are the perfect background of an oriental fairy tale of gold and treasures. Two hot springs with different mineral properties have carved out the limestone, creating one of the most beautiful and unique places in the world.
Thor's Well, Oregon, USA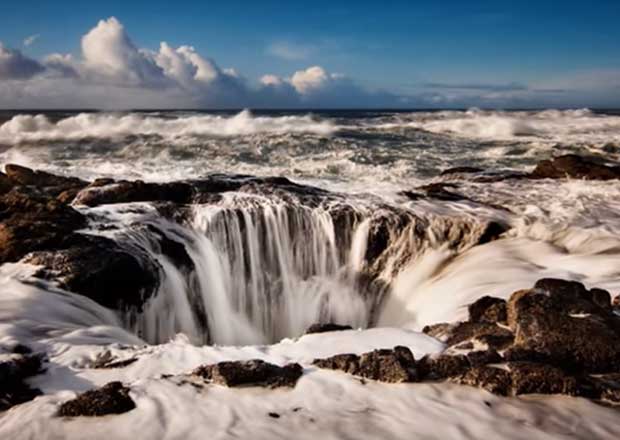 A pretty scary and quirky, but really magnificent and breathtaking place, indeed, Thor's Well located in Oregon is also known as Spouting Horn and it is a favourite place for really extreme and adventurous surfers. In rough conditions, they would go into the gaping sinkhole and that will shoot them upwards with a very great force. Although the place is truly magnificent and awe-inspiring, for your safety you are recommended to stay well back.
Spotted Lake, British Columbia, Canada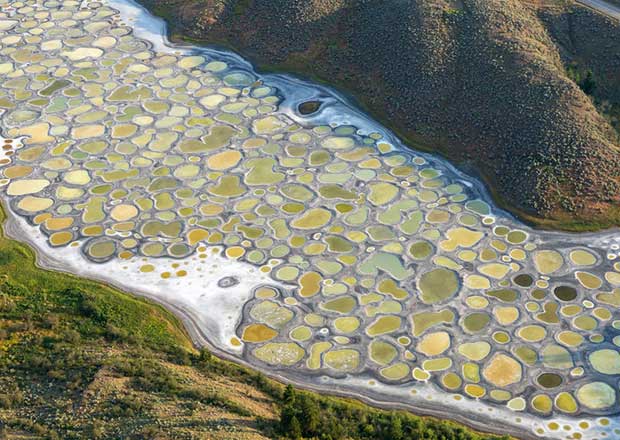 Many would tell you that Canada is a unique and quirky land in general and they won't tell a lie, but the country is also popular with a few extremely interesting and exciting places you can take an adventure to, one of them is the Spotted Lake in British Columbia. The Spotted Lake is a spiritual and special place for the native Okanagan people and it is not hard to see why it is so sacred and special to them – it looks out of this world! The whole secret behind the unusual appearance of the lake is hiding in the mineral pools that are left behind the evaporating lake water in the summer. The best part is that each mineral pool is a different colour than the neighbouring one, which makes the place extremely beautiful and picture-worthy. The unique lake could be seen from the small town Osoyoos, but keep in mind that visitors are asked not to disturb the native people.
Pamukkale, Turkey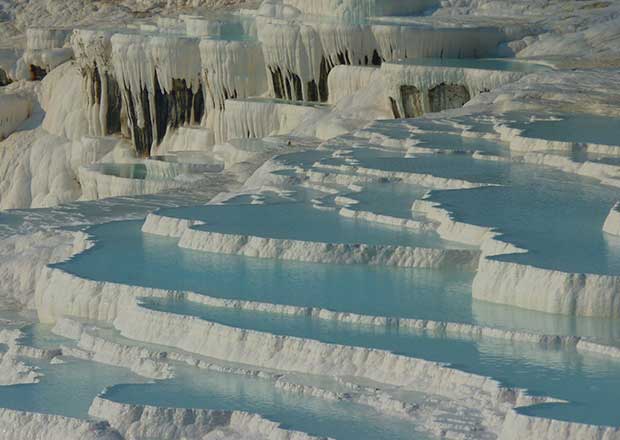 Welcome to the cotton candy heaven, because this amazingly beautiful and strangely magnificent place in Turkey looks like out of a fairy tale, all covered with cotton-like natural forms. Pamukkale is a UNESCO World Heritage Site, definitely one of the most remarkable and unique out of them and is located in southwest Turkey, where you can enjoy the natural springs water cascades crawling down the white travertine terraces and forming beautiful pools of hot water. Thermal water is popular with its many benefits, but what will win over your heart is the enigmatic appearance of the place that reminds us of an underwater palace built from sea foam.
The Tianzi mountains, China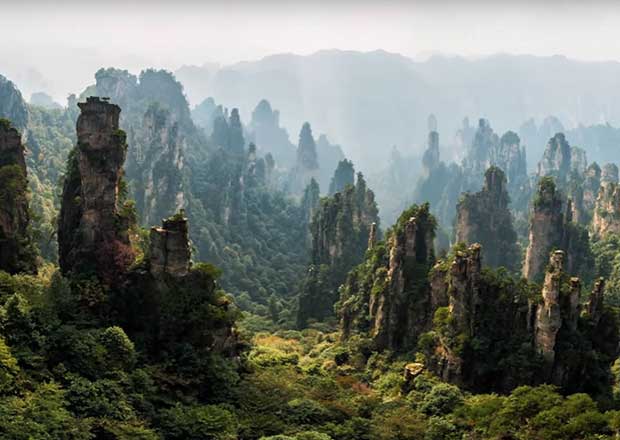 One more extremely beautiful and out-of-this-world-looking place in our list of unique things around the world is the Tianzi mountains that are located northwest of Hunan Province in China. The Tianzi mountains are uniquely-shaped limestone pinnacles that are covered in lush greenery, which adds even more quirkiness to the overall appearance and atmosphere of the place. If you want to visit the place and enjoy it up close, you can take a cable car and reach to the Huangshi village, then go on one of the many trails that will lead you to this very special, shrouded in mist place.
Socorta Island, Yemen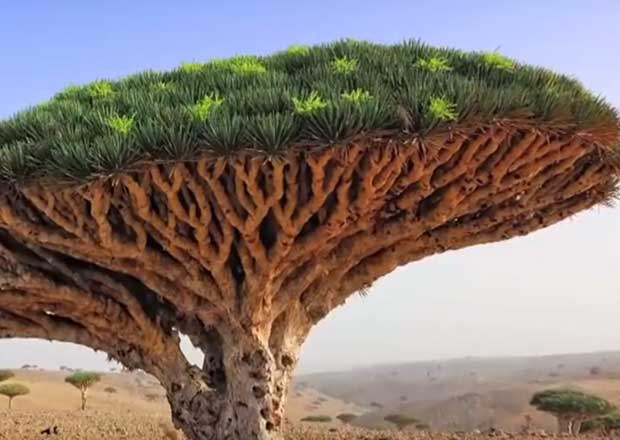 This remote and strange island looks exactly like a set for a sci-fi movie with its unique and breathtaking biodiversity and dramatic nature. On the island there are plants and tree species that grow only here and nowhere around the world, which makes this island really special and mysterious. However, the most unique-looking and bizarre are the ancient dragon's blood and bulbous bottle trees that make the background look like out of this world. Make sure to stay tuned for the second part of the article and learn more about the world's most mysterious and strange places!