Dining Do's and Don'ts Around the World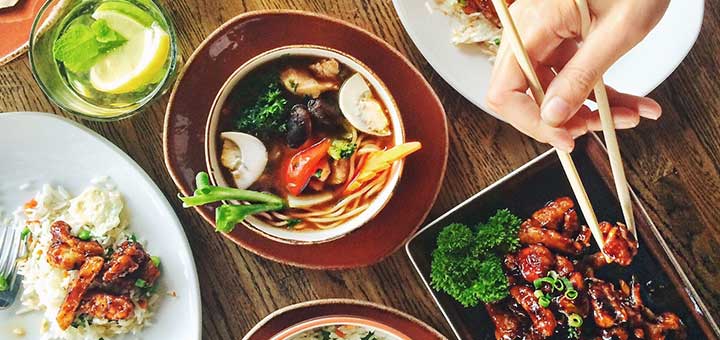 Dining Etiquette Around the World
Whether soaking up the summer sun or relaxing in a winter wonderland, one thing's for certain: Brits love a trip abroad. In fact, we love it so much that, on average, over 96,000* overseas journeys are made from the UK each year. There are lots of reasons why British people travel abroad: it gets them outside their comfort zone. It's a chance to escape from the pressures of everyday life, and embracing different cultures makes for a unique and eye-opening experience. But the main reason is this: international food is delicious – and different to what's on offer at home.
While dining abroad, it's important to be aware of the local customs and traditions surrounding food. Even the keenest, most culturally sensitive traveller can be caught out when it comes to understanding the dining etiquette of the country they're visiting. We all need food for nourishment, of course, but there's no getting around the complex social rituals of the dinner table.
How to Eat in Europe
History tells us that fine dining went through a prolonged period of refinement during the 18th century, particularly in Europe. High-backed chairs forced diners to sit up straight, and the mass-production of silver-plated cutlery meant that people of all classes could eat with proper utensils. This then gave rise to new meals and customs reflective of the changing times; whoever would have believed that afternoon tea was once at the centre of a culinary revolution?!
Nowadays, this light meal is enjoyed by people of all ages, but there are still niceties that must be observed. Most of these involve the humble teaspoon, with emphasis on how to use it properly – after all, tea is a very serious matter! Did you know, for instance, that the spoon shouldn't touch the side of the cup while you're stirring? Or that you should always place it on the saucer when you're done? No need to thank us.
Across Europe, continental dining styles apply to most countries. Forks are traditionally held in the left hand, prongs pointing down at the plate. Knives go in our right, the sharp edge facing the food. 'Elbows off the table!' is a phrase familiar to most ears, especially in the UK, and it's customary for all guests to begin eating at the same time. Oh, and whatever you do, don't slurp your food! (This can be tricky if you like soup, but we're sure you'll manage.)
Asian Mealtime Manners
In Asia, you'll find the dining etiquette far removed from the formalities of Europe. Because Asia is so vast, dining customs vary wherever you go. However, most relate to chopsticks, which can be notoriously fiddly if you've never used them before.
Firstly, never point at your food or a fellow guest with them. This is perhaps one of the rudest faux pas you can make and should be avoided at all costs. Also, don't gesture at the air with them – this is considered equally disrespectful.
Another thing to remember is never to leave your chopsticks sticking out vertically in your food. It could remind those you're dining with of a funeral ritual! In both China and Japan, incense sticks are burned as offerings to the dead. This is a perfect example of how incorrect table manners can lead to a, literally, grave misunderstanding.
On the upside, though, if you're visiting Japan you can slurp and burp at the table as much as you want. In fact, it's a Japanese custom – it shows you're satisfied with your food.
Religion and Dining Etiquette
Wherever you go in the world, beliefs play a significant role in table manners. In countries where Islam is the main religion, to take just one example, the left hand is considered un-hygienic, which is why at most Muslim mealtimes, you'll see people only eating with their right. It is also expected that you wash your hands before you eat, so make sure you freshen up.
In the Islamic faith, the word halal means permissible. Famously halal foods that Muslims enjoy include fruits, vegetables and grains. Meat can also be halal if it has been slaughtered in the appropriate way, according to Islamic tradition. However, pork is considered haram, which means forbidden, and should not be consumed in a Muslim household. Alcohol also falls under the category of haram, so be sure not to bring a bottle of wine when you go to dinner in a Muslim home.
Gesturing for the Bill
As a tourist, asking for the bill can be very awkward if you don't know what you're doing; it's time to face facts, clicking your fingers at waiting staff is rude regardless of where you travel. If there's a language barrier that you simply can't break through, it's important to know the local signals for when you're ready to pay.
As it happens, pretending to write a cheque in the air is enough in most countries; however, some destinations are a little more unique when it comes to gesturing for the bill. For example, saying 'pssst' while signalling is the custom in Tanzania, while in countries such as Nigeria and Cameroon, it's commonplace to hiss when you want to pay.
No matter where you are in the world, taking the time to learn and understand how varied manners – table or otherwise – are will always stand you in good stead. A truly good meal abroad is a beautiful thing, and it's crucial that you understand the dining etiquette of the country you're visiting so you can enjoy the experience to the full.
*Travel data from January 2015 to June 2018, supplied by the Office for National Statistics.
---
Author Bio: Robert Keal is an SEO Content Executive at Stellar Search, a data-driven digital marketing agency based in London. Fine-tuning writing to rank in SERPs, he represents a content team that creates compelling articles for clients across a range of industries.
Whether you're starting from scratch or just trying to hone your content offering, Stellar Search can help. Words are an asset – and we know how to use them.