Ultimate Guide to Turkish Cuisine – Part 1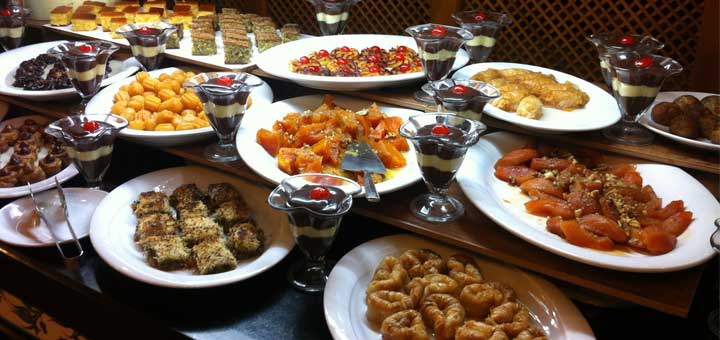 A journey to Turkey will be definitely a memorable highlight of your life as a tourist, but those of you who have visited the country already know that. The Turkish cuisine, on the other hand, is definitely a highlight of a journey to Turkey. There is no coincidence that Turkish cuisine is ranked in top three along with French and Chinese one as one of the world's classic cuisines and satisfies the taste buds of so many people around the world.
Unlike most of the cuisines around the world, Turkish one is not only about fine dining in its pure and luxurious form, but also related to probably the greatest diversity and variety of dishes and flavors that are a result of thousands of years of mixing Balkan cultures, history, traditions and flavors and somehow between all these multi-ethnic mixes, foreign influences, variety of cultures and what now, the Turkish cuisine is born and enjoyed as one of the world's greatest experiences! Without further ado and taking the risk to tickle your appetite a bit too much, here are some Turkish dishes and flavours that worth trying and enjoying, when visiting the country (or stumbling upon an authentic Turkish restaurant).
Meze (Appetizers)
Appetizers or meze as they call them originally in Turkey are a big necessity in the everyday life of Turkish people and they will turn out to be a necessity and a favourite in the life of all tourists visiting Turkey. In many senses and ways, appetizers are the heart and base of Turkish cuisine or at least a great way to prepare yourself for the diverse and distinct palette of flavours, scents and colours you are about to witness when dining in the country. Perfectly reflecting the Turkish infamous hospitality and philosophy for enjoying life, meze will introduce you to the tradition of enjoying life (and food in particular) in all its aspects, colours and senses.
Nation's appetizers truly come in hundreds of options and alternatives similar to Italian antipasti, but we recommend you to definitely try: patlican salatasi (aubergine mash), piyaz (white haricot vinaigrette), semizotu (purslane weed in yoghurt), mucver (zucchini croquettes), sigara boregi (rolled cheese pastries), imam bayildi (baked aubergine with onion and tomato), dolma (stuffed vegetable, usually peppers and tomatoes).
Turkish breakfast
Turkish breakfast might not be as popular as British or American one, but it is truly what Balkans call it breakfast for champions. There is a saying older people in Turkey like to repeat and share with foreigners and it goes: "It is a typical Turkish dining table only then when it is impossible to see the table's top covered with so many plates full of delicious food". When it comes to Turkish breakfast, this saying and tradition is applied in a full force. There is nothing really that complex and complicated about the dishes Turkish people eat on breakfast, the only thing needed is fresh products and delicious, simple and diverse food (a galore in Turkey). Fresh vegetables, delicious olives, warm bread, a few slices of local cheese, some yoghurt and the famous Turkish tea and you are ready to conquer the world!
Pastry-based desserts and baklava
Pastry-based desserts and desserts, in general, are something big in Turkey, so all of you sweet-tooth people you will feel at its best visiting and dining in the country. And when we talk about desserts, we talk about really, really sweet and satisfying ones! Making and baking desserts in Turkey is a real form of art and a big part of local traditions and culture to the point, where there are probably hundreds of different receipts and way to prepare one of the most famous Turkish desserts, the pastry-based baklava, but the base remains the same and ever so temptingly delicious – sugar, flour, nut and butter mix rolled out in a dough thin enough so you can read a newspaper through it! Another Turkish treat worth trying if kunefe and it is originally made from mild goat's cheese on top of kadaif, then generously sprinkled with shredded pistachio and soaked in syrup and finally baked in the oven and enjoyed with a strong Turkish coffee.
Bread (ekmek)
Bread in Turkey is often bigger than the world, usually consumed together with main dishes, soups and even salads and also often used for spreading mezes on top of slices from the bread. The traditional Turkish bread is called ekmek and it is the best if an hour or two old, but the best when warm and right out of the oven! A loaf of ekmek is usually used for making a fish sandwich with a filet of a Black Sea baked mackerel, slices of lemon and chopped red onion or even as a base of doner kebab stuffed with slices of meat, fresh vegetables and different sauces.
Cheese
When it comes to cheese, you will be more than spoilt of choice between so many different cheese flavours, textures and intensities, when in Turkey. Some of the most popular and delicious types of cheese in Turkey include: beyaz peynir (similar to feta and a staple in Turkish cuisine), dil peynir ("tongue" cheese in thin strips, hard and salty), ogru peynir (that is really delicious when grilled or fried like Cypriot halloumi), Tulum peynir (salty, very strong, almost granular goat's cheese cured in a goatskin), otlu peynir (cured with herbs, very flavourfull), kasar (made from cow milk, often aged).
Stay tuned for part two to explore more about the amazing Turkish cuisine!